Above The 40 – The S&P 500 Shows Off Again
AT40 = 59.3% of stocks are trading above their respective 40-day moving averages (DMAs)
AT200 = 58.3% of stocks are trading above their respective 200DMAs
VIX = 9.9 (volatility index)
Short-term Trading Call: neutral
Commentary
The stock market continued its healing process from its last bout of mild indigestion. Most impressive is the S&P 500 (SPY) which confirmed support at its 50-day moving average (DMA) with a gap up and break out above the previous short-term downtrend. The index gained 0.7% the previous day (Wednesday, June 12) and followed-through with a little more buying interest today.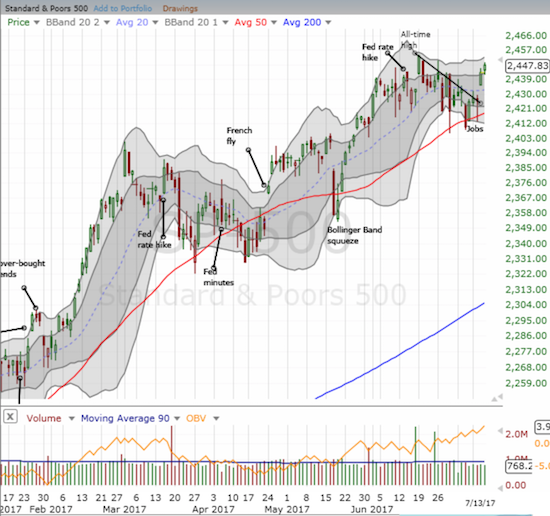 The S&P 500 made a statement with a gap up that broke through the churning downtrend that defined trading for 3 weeks. Follow-through buying confirmed the move.
Tech also impressed by gaining without sucking air out of the rest of the market. The Nasdaq increased 1.1% on the previous day and pushed a little higher today. The PowerShares QQQ ETF (QQQ) moved along with the Nasdaq. Both tech-laden indices delivered confirmed 50DMA breakouts.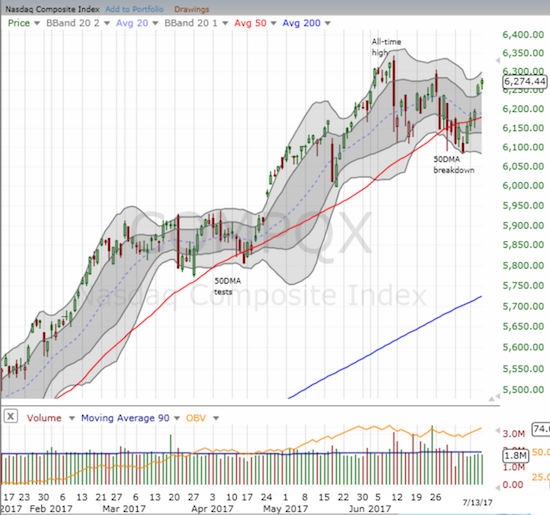 The Nasdaq confirmed its 50DMA breakout with a gap up and more follow-through buying.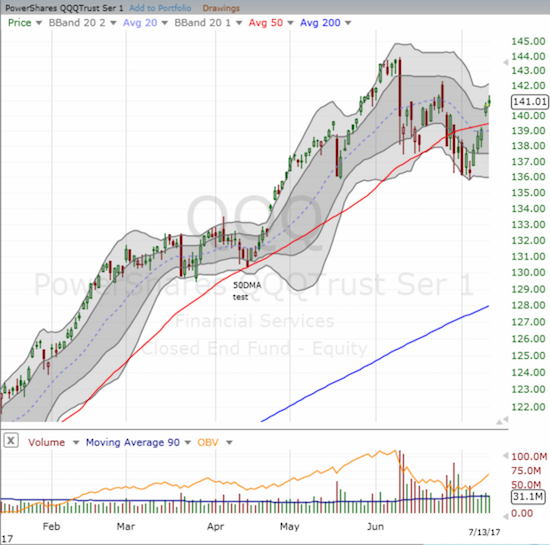 The PowerShares QQQ ETF gapped up for its 50DMA break out and confirmed the move with buying the next day.
AT40 (T2108), the percentage of stocks trading above their respective 40DMAs, confirmed the return of bullish sentiment with its own gap up on Wednesday. Trading looked shakier today, but AT40 managed to eke out a marginal gain to close at 59.3%. The volatility index, the VIX, rounded out the bullish flavor with a plunge back toward 14-year lows (recall that the VIX at extreme lows is typically a BULLISH sign).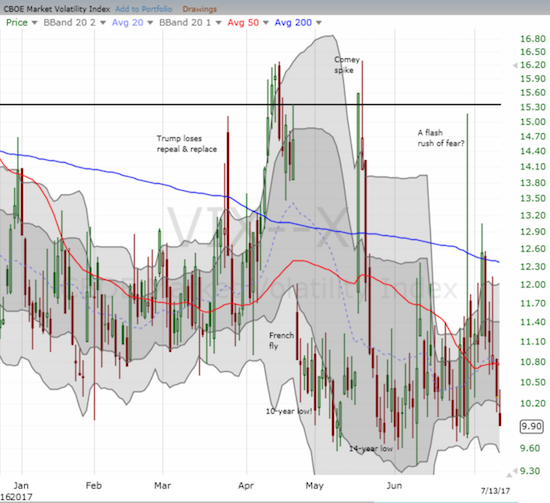 The volatility index, the VIX, ended its upward bias with a whimper and now plumbs 14-year lows again.
Putting these moves all together, I am suddenly looking at a short-term trading call that is slipping out of step with the market's latest mood. Still, I am sticking with neutral until buyers prove themselves by firmly planting a new all-time high flag on the S&P 500. And even then, I am not expecting much more upside from there in the short-term as I discussed in the last Above the 40.
Disclosure: long AAPL puts, long NFLX puts, long TSLA puts, long TGT calls, long XLF calls
Follow Dr. Duru's commentary on financial markets via more