E

With Gold Stocks So Bearish Are Their Internal Signs Indicating You Shouldn't Be?
Gold Silver Ratio
I continue to perceive a lot of misunderstanding of the GSR as a market forecasting tool. Granted it is somewhat of an esoteric indicator, but that actually works to our advantage. Name me another site out there that is focused on this indicator and sees the utility in it? The GSR, of course, measures the value which the market assigns to the relationship between the price of gold vs the price of silver. In times of credit stress, the market much prefers gold over silver. This is because gold is money and silver is chiefly an industrial metal with monetary properties. When economic conditions become stressed the consumption of silver lags. However, as is shown by Exeter's Pyramid gold attracts capital in crisis since it is the ultimate form of liquidity. Why is it the ultimate form of liquidity? Because of what we previously discussed-gold is stored value, not a claim on future value.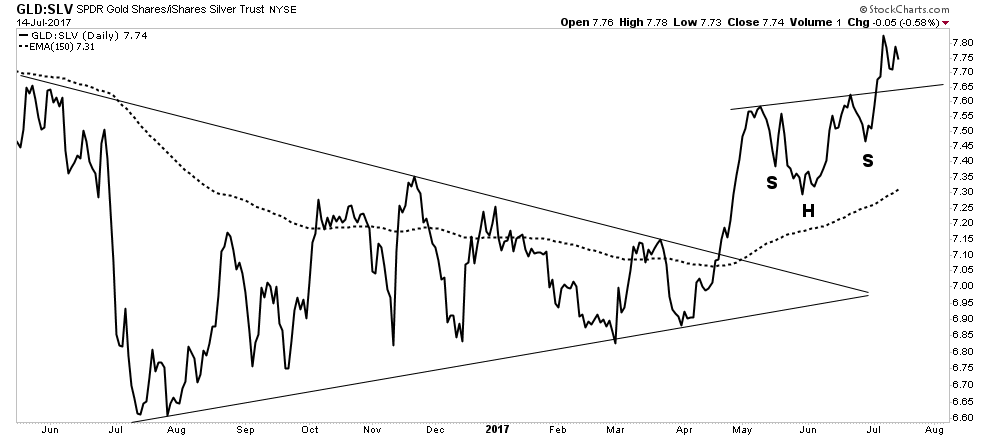 So how do we analyze this indicator? I think the chief obstacle with most investors is they want to see it as an absolute measure as opposed to a relative measure. Just because the current ratio is a smaller number than it was in the 1990-91 credit event does not mean it is forecasting less distress. It is the relative movement that is important. Different eras assign a different valuation to gold vs silver. We don't need to measure one against the other to receive the utility of the GSR. Having said that however, I do anticipate that the next economic crisis may lead to a GSR that breaks all the previous records. That, of course, will be a reflection of the illiquidity of the crisis that exists. How high could it go? I am guessing we will hit GSR 150.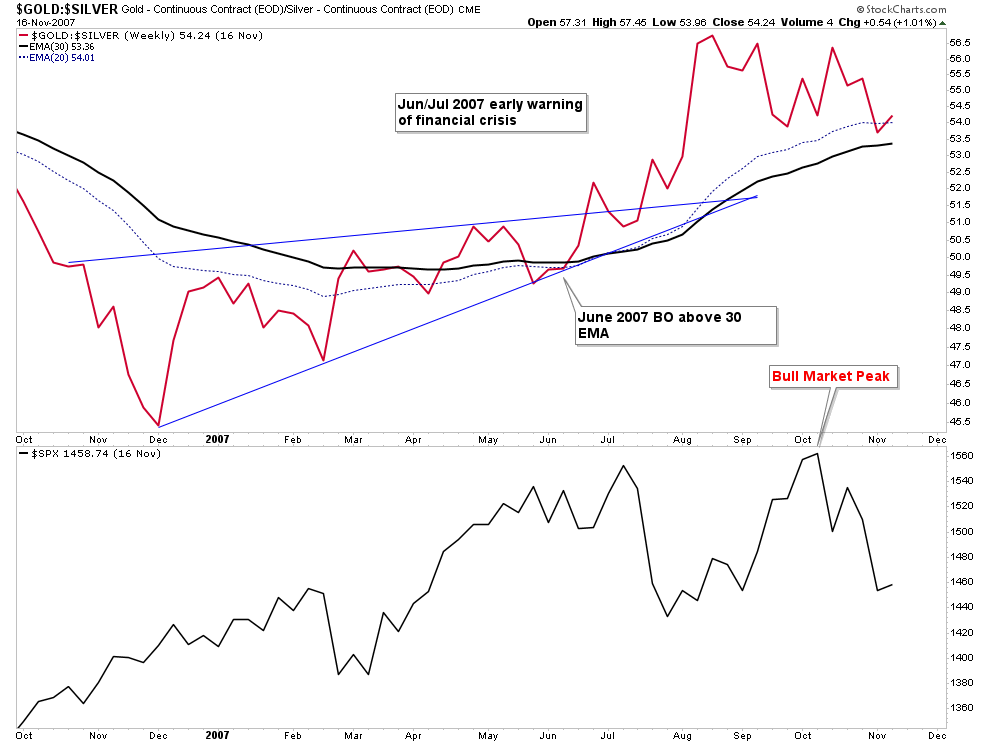 In the above chart we see how the GSR forecast the initial tightening of credit and the top of the market in 2007.
So the GSR acts as a metallic credit spread and it's currently telling us that credit stress lies ahead in the future. Historically markets clear in the fall so this is likely looking into that time period anticipating a clearing event. This is why I started positioning myself earlier this year to deal with this circumstance. I have sold all real estate and sit on ample deployable cash if and when this occurs. I am exercising patience and I have learned to anticipate and wait.
Canada Watch:
The everything bubble floats out there waiting to be popped. Where will the catalyst come from? Canada is one of the possibilities as its housing bubble appears to be in the early phases of bursting. We watch the Canadian banks and the Canadian Real Estate Investment trust for signs. We should have traded the bounce in Canadian banks, however, we can only do limited things.
This is what rates set at the zero bound will do for you when there is no crisis: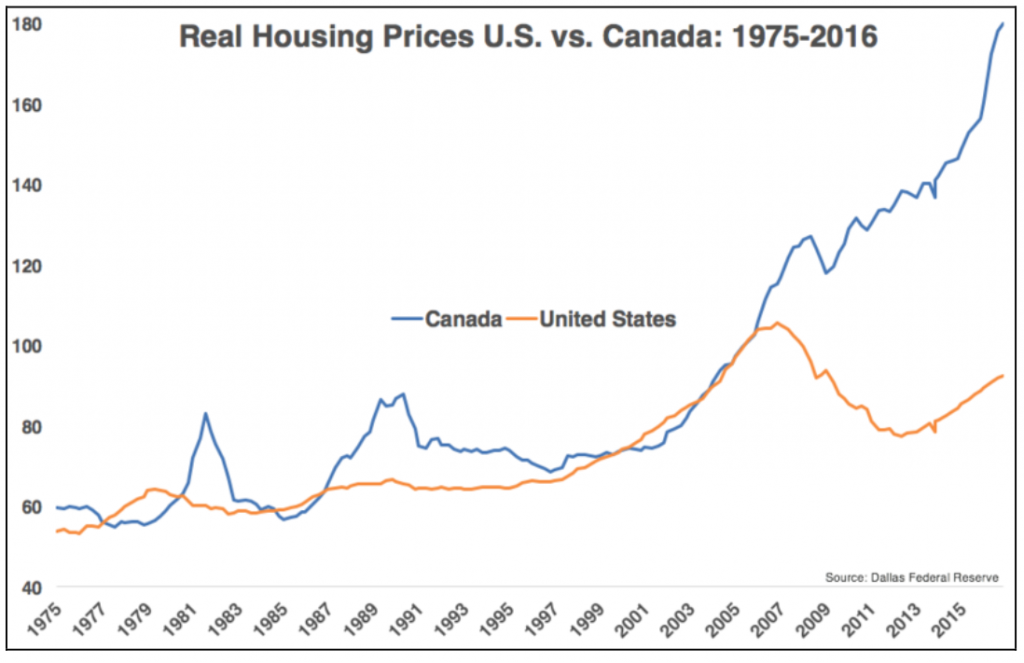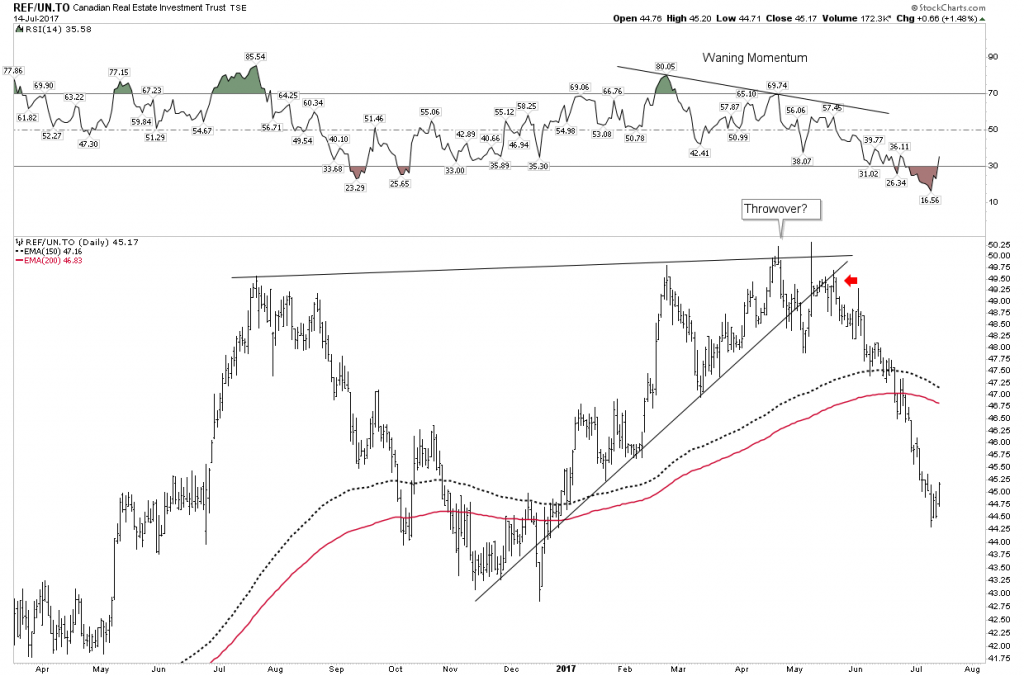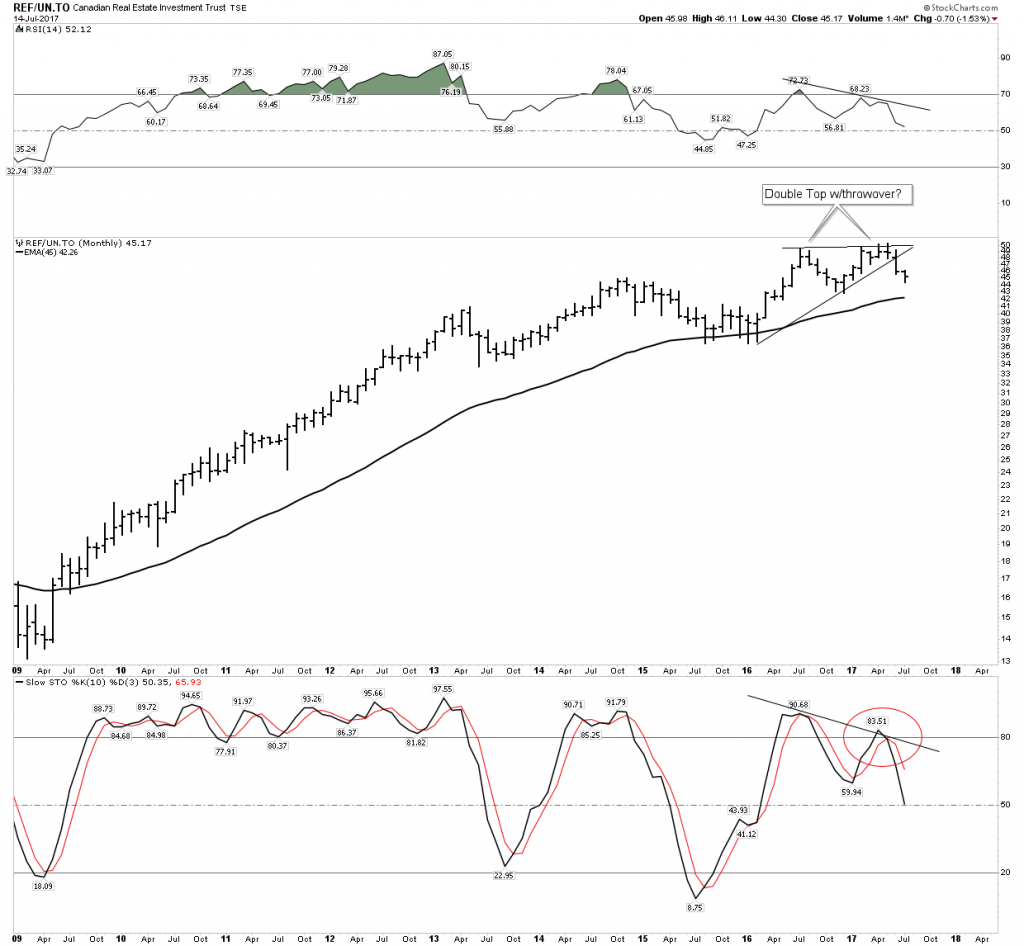 Europe Watch:
I have made the point that our PBC model calls for the historical precedent of the European markets to peak first. So far this thesis is on track.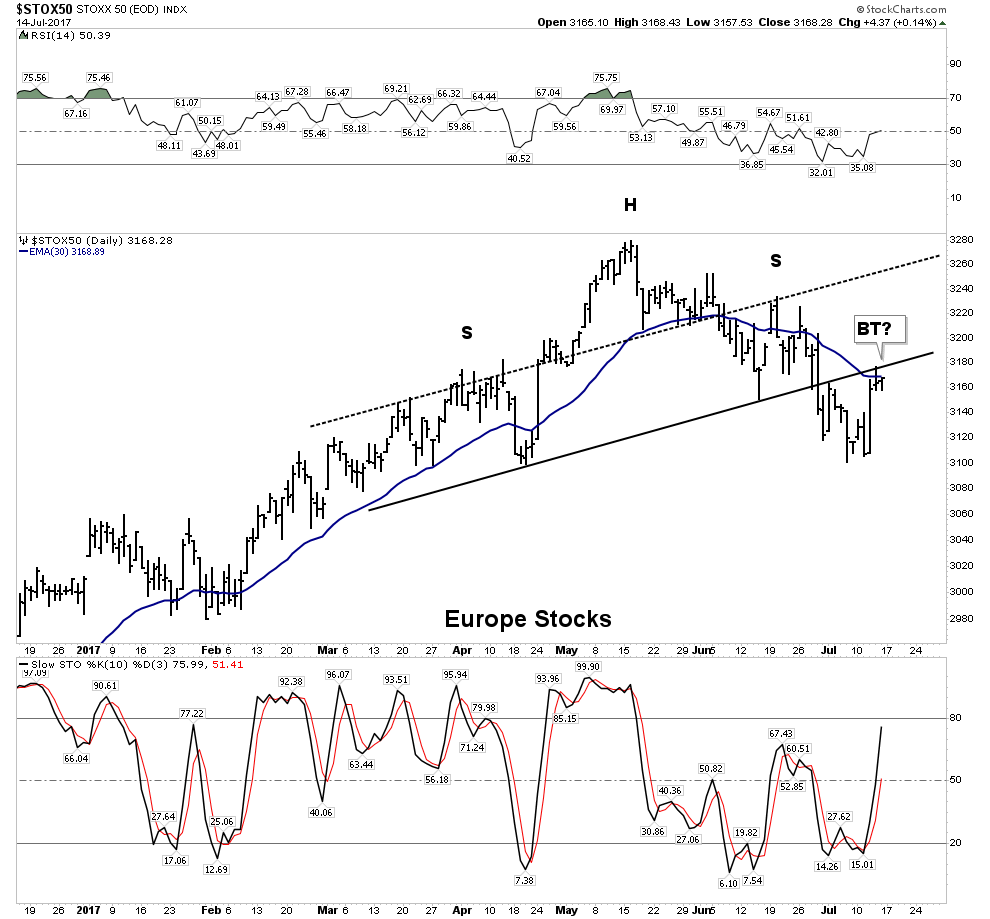 Auto Watch
This sector continues to head for carmageddon. In the prior report, I mentioned O'Reily Auto Parts may be the next shoe to drop and follow AutoZone into the abyss. Well that's exactly what we saw happen: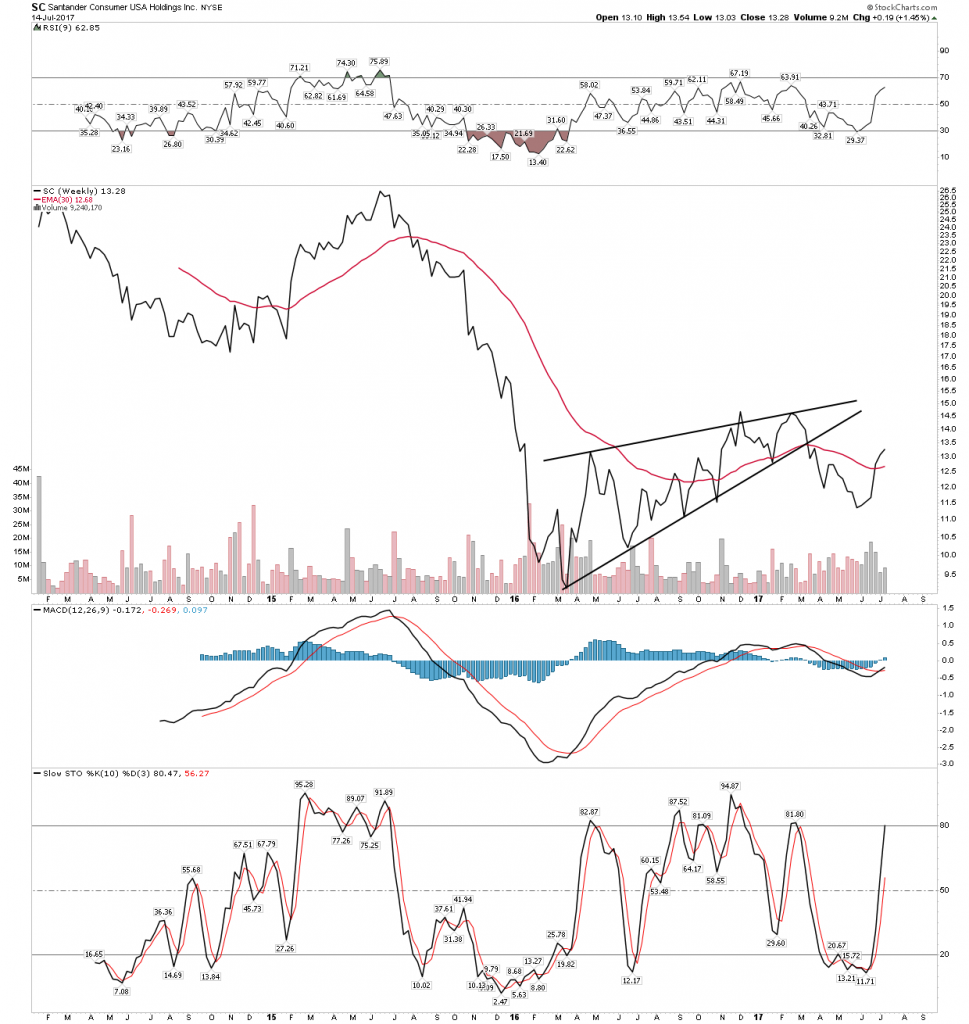 Subprime offender-SC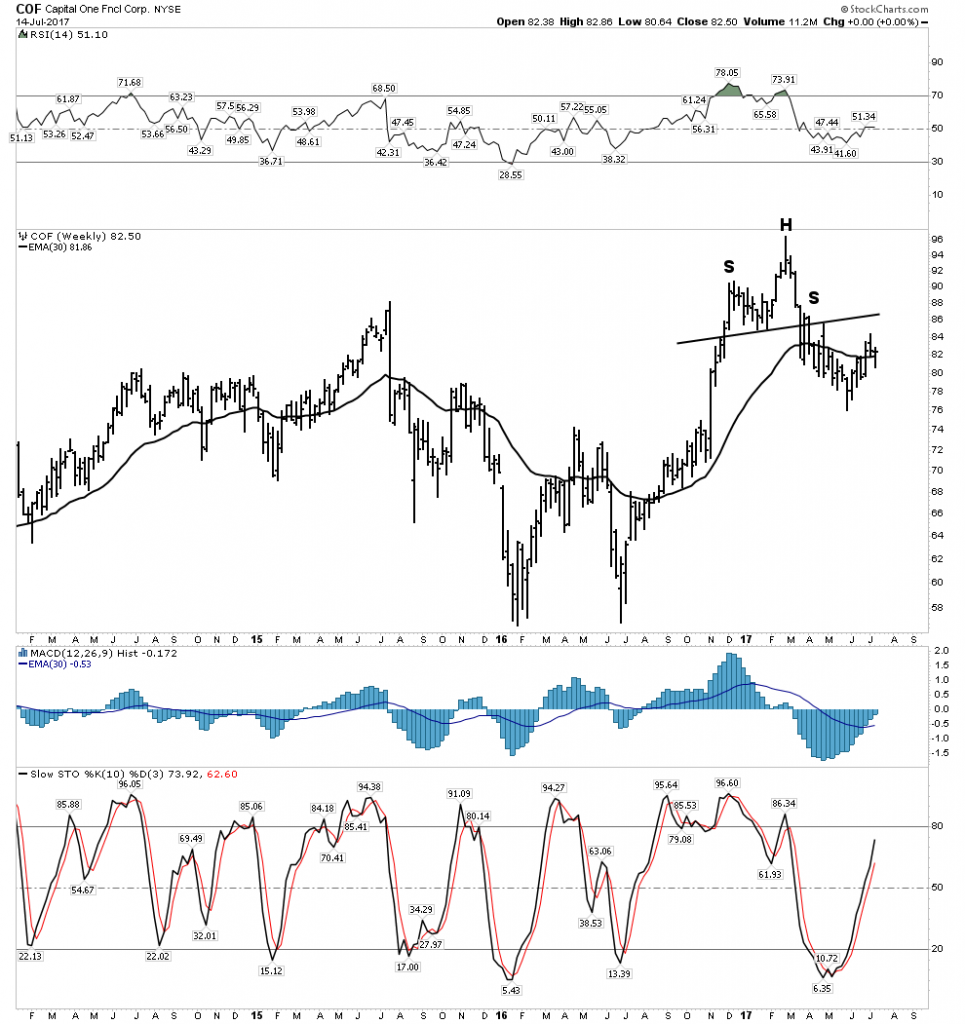 More Auto Finance Sub-Prime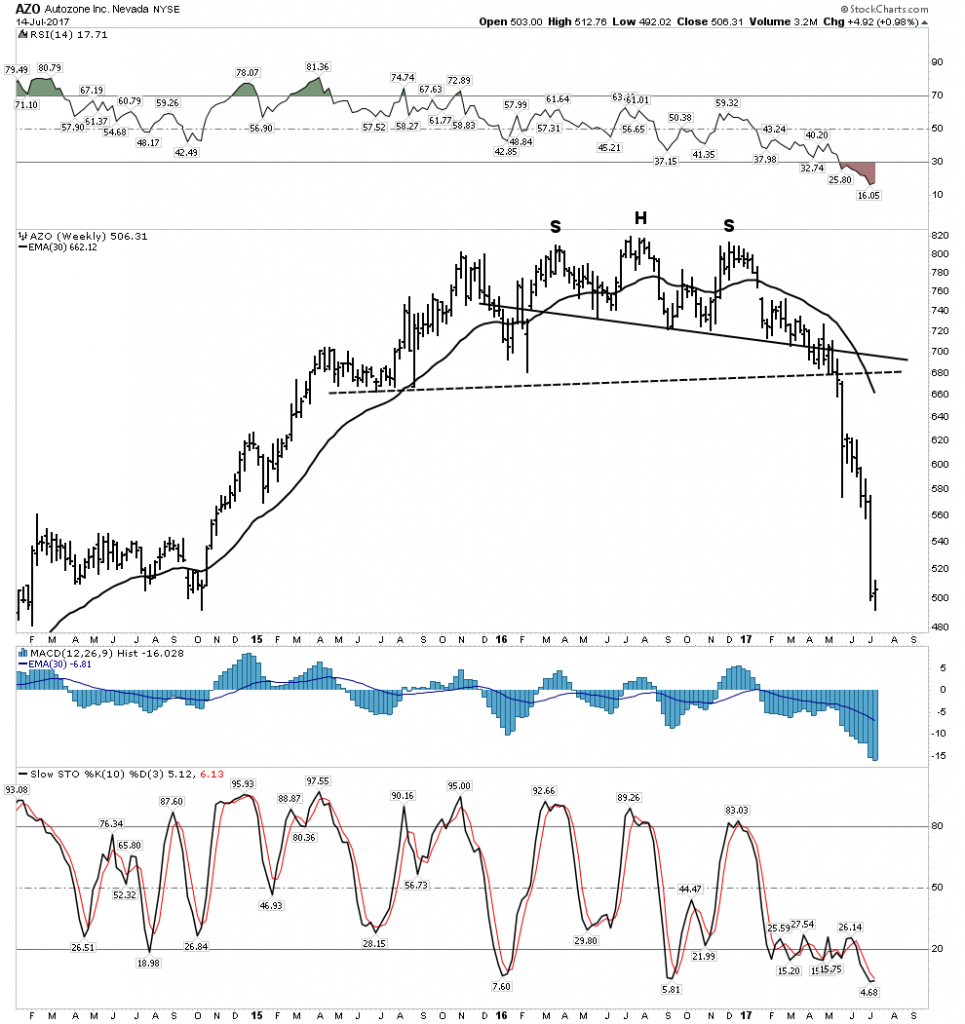 Above Auto Zone, and remember 2 weeks ago I mentioned O'Reily looked ready to follow!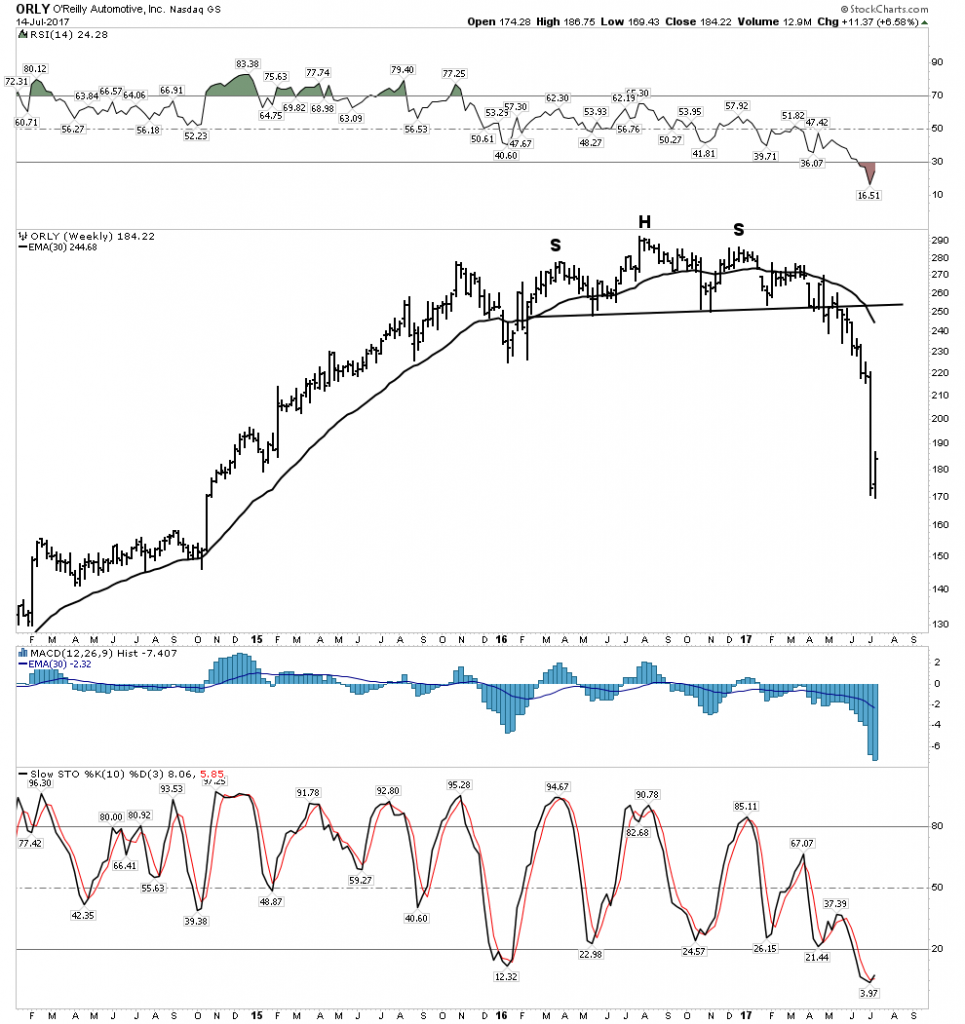 And our special Pied Piper of Kool-Aide stocks TSLA….
I am sorry folks, but I just can't get on board the Tesla mania-momentum train. The more I look at this company the more and more I see a giant equity fraud. Sure their cars are cool and they really do produce them, but it just doesn't add up. We have to remember that a stock represents equity and ultimately an equities price must reflect the value of the free cash flow it can produce. That's where this thing eventually comes off the rails. Here we have a megalomaniac CEO who likes to give speeches about living on Mars, meanwhile the debt wall looms closer every day. When does the market finally recognize this predicament? Don't know, but we do know that markets are discounting mechanisms and the stock should tell us first. So we have charts that allow two diametrically opposed outcomes. Is this just a pull back to support or is this the initial bursting of the bubble? That's your call.
The below weekly chart still has a bullish configuration. The correction held at the 30 EMA so from a pure technical view it's good,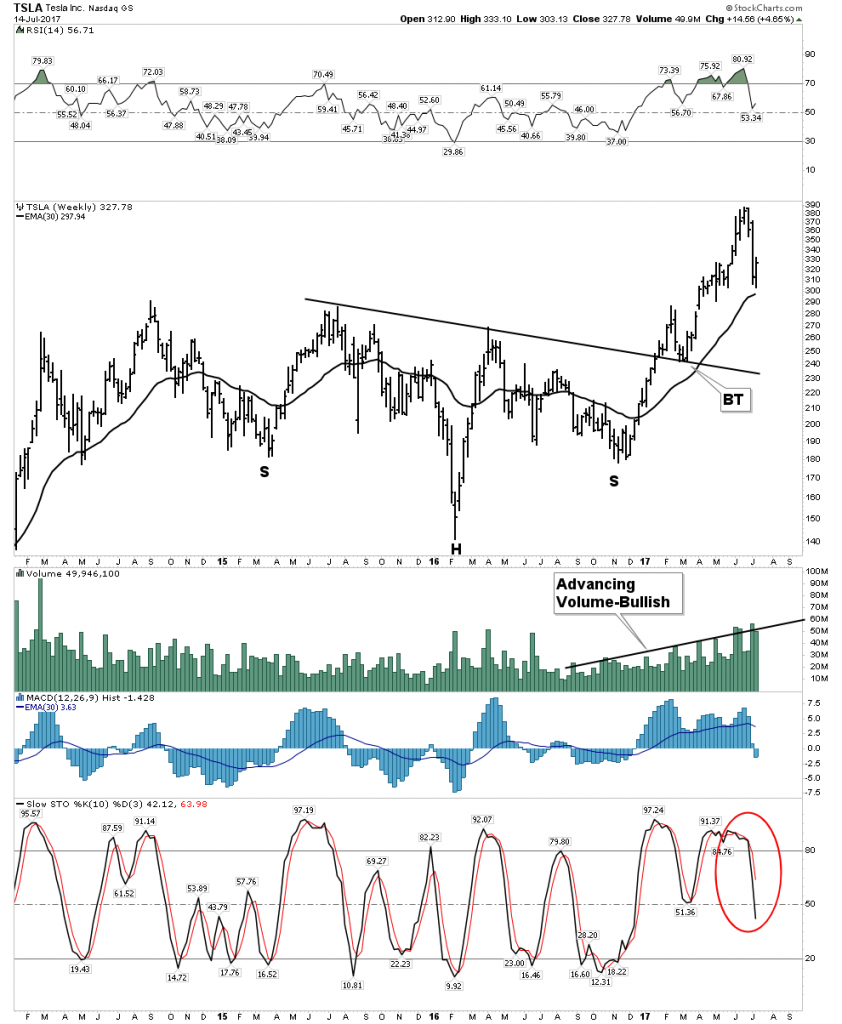 The Shorter 2 Hr view however just looks too bearish for me.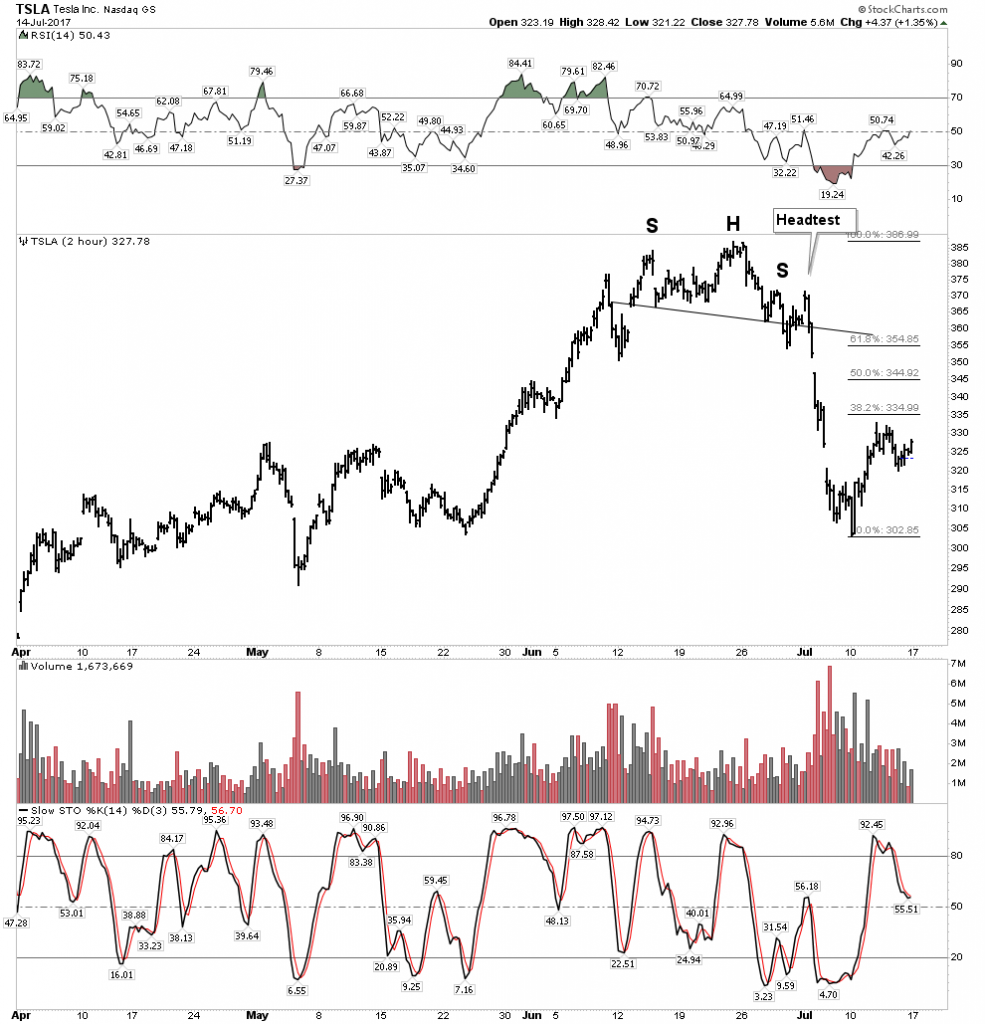 Restaurant watch: These babies are just getting started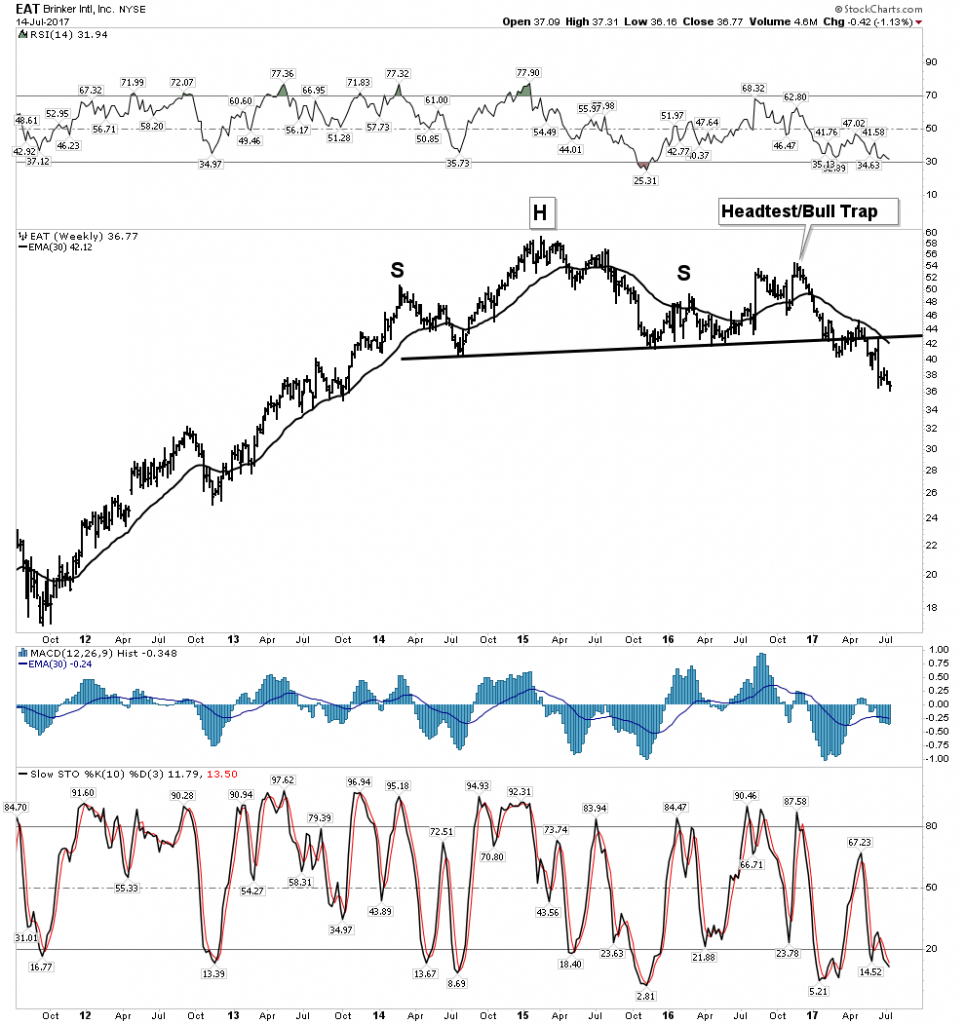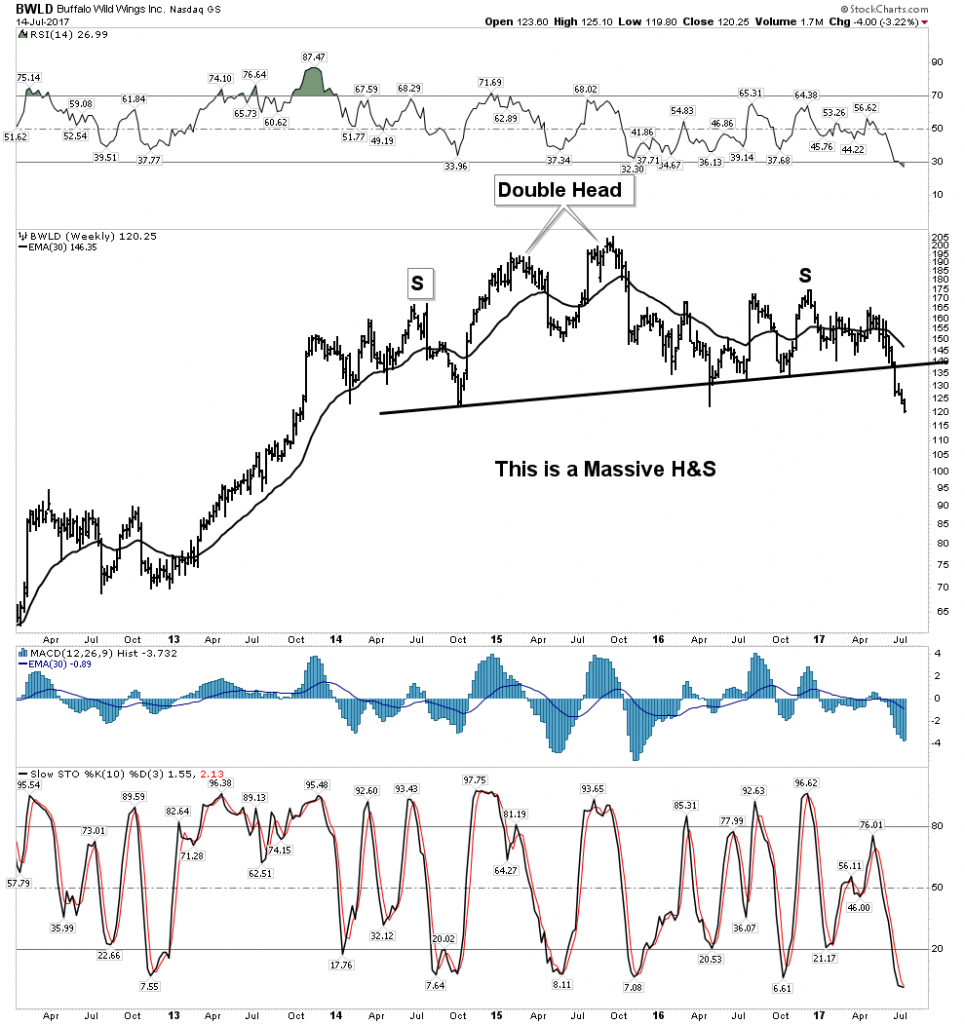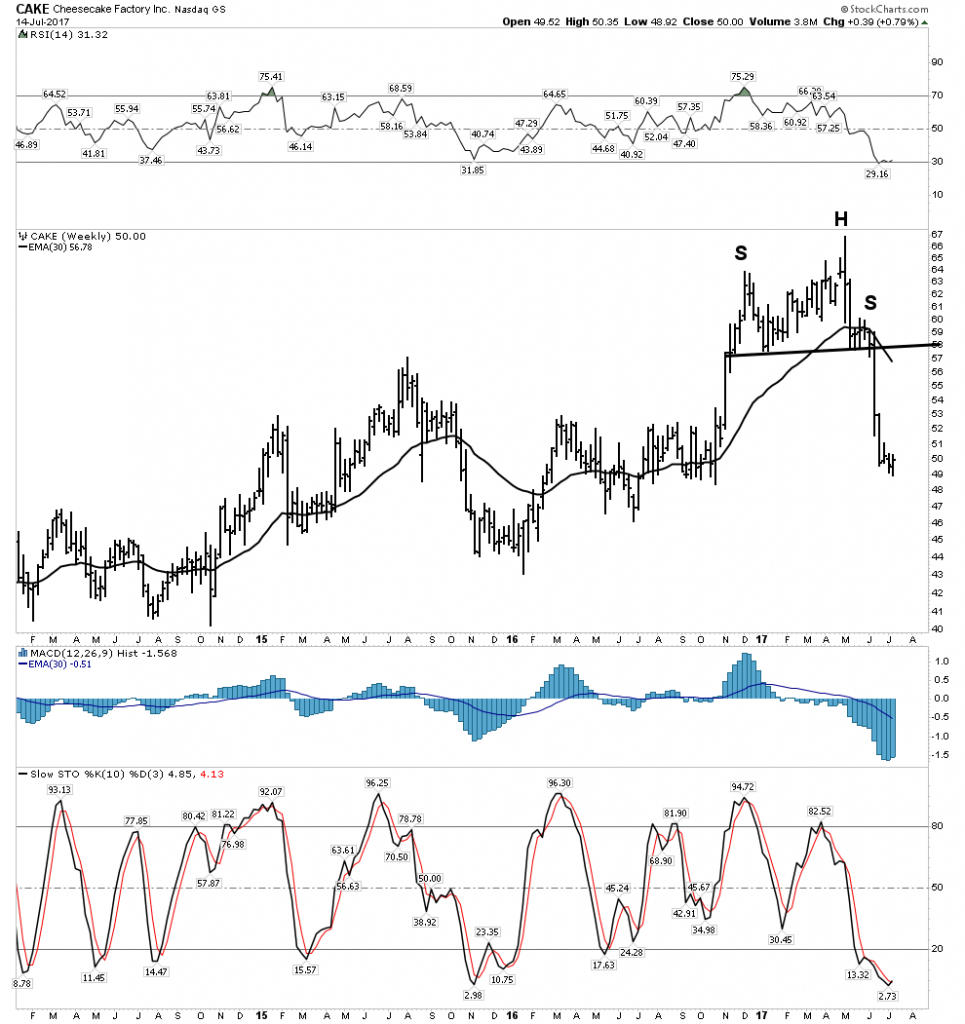 Takeover Watch
Waiting patiently: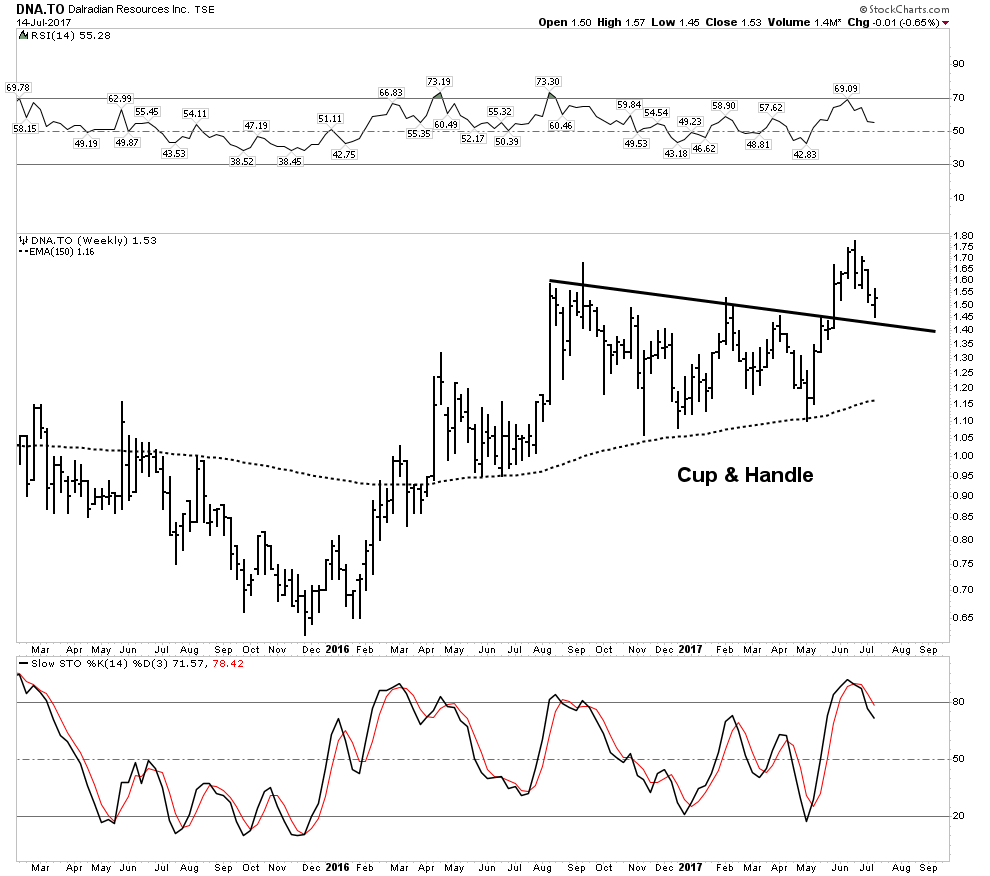 Stock of the Week- Novo Resources
This has the potential for a major discovery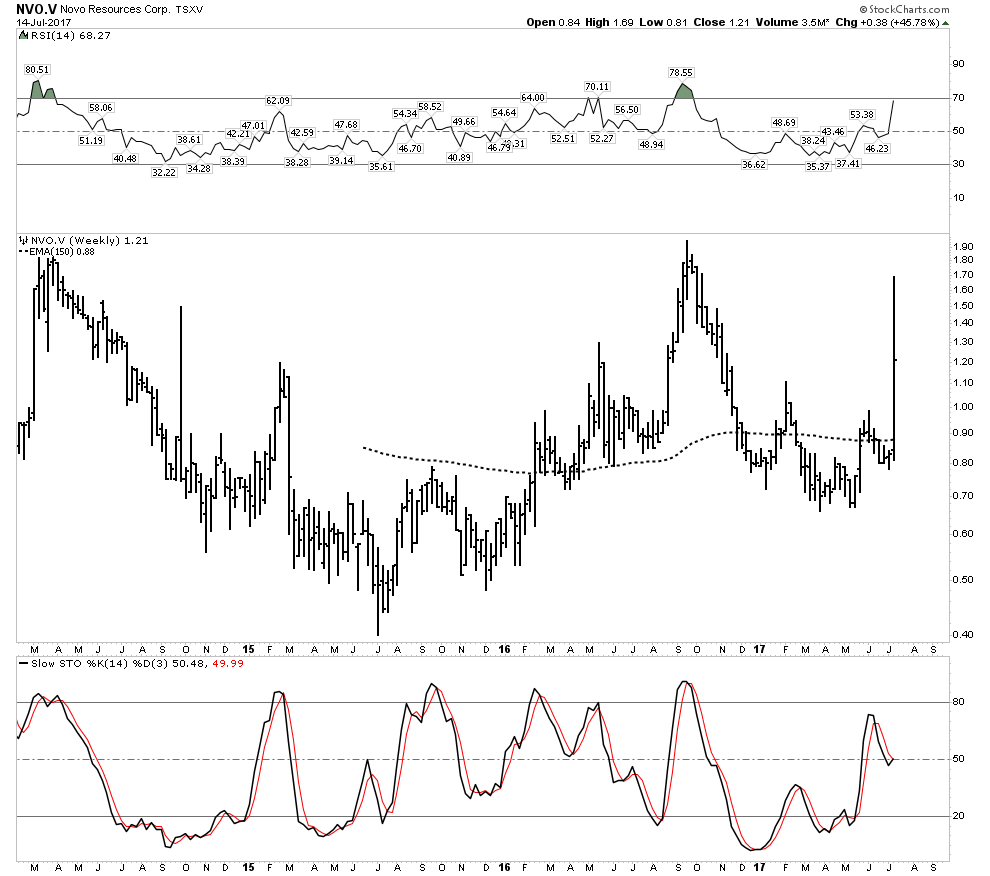 Dog of the Week-SNAP
Pretty pure and simple-chartology wise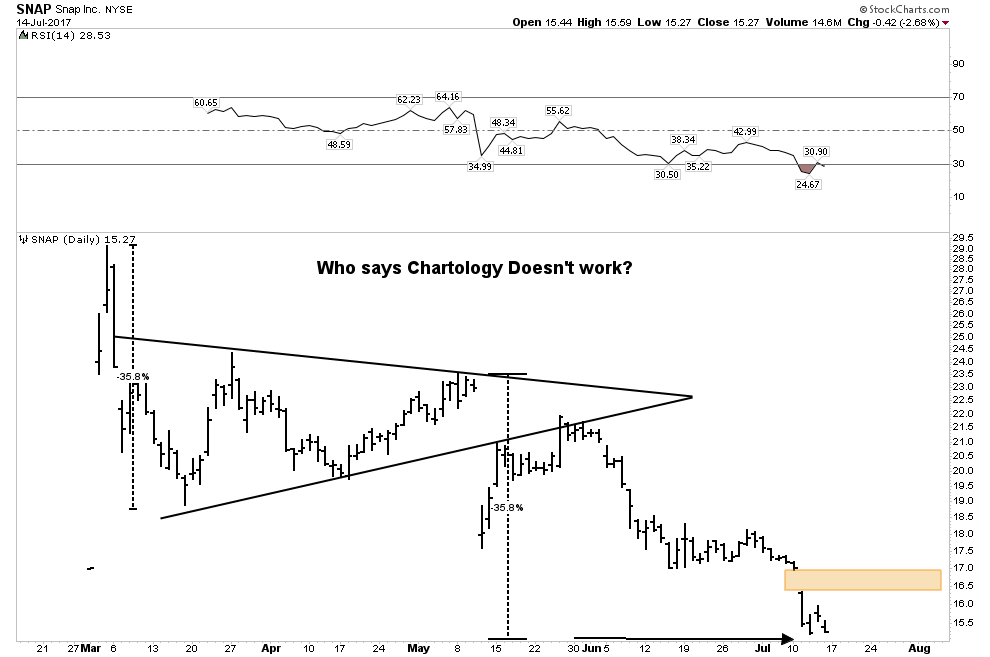 Plunger's Big Trade- Oil Short
I am currently out of this trade for now. I will reenter as soon as the upside has run its course. I see oil staying firm into August, however, the fall season should bear fruit for this trade. It's been great so far: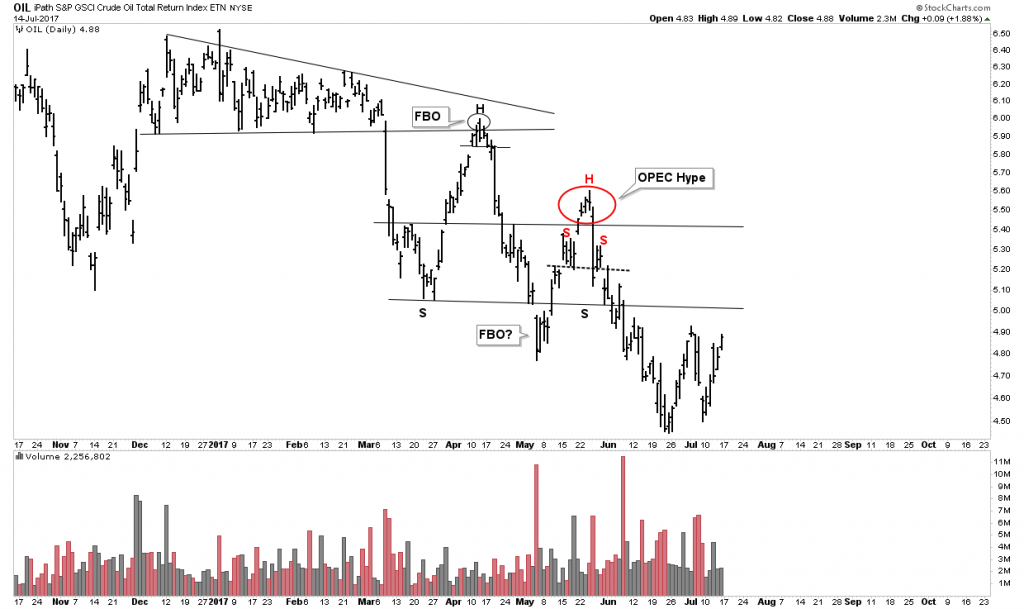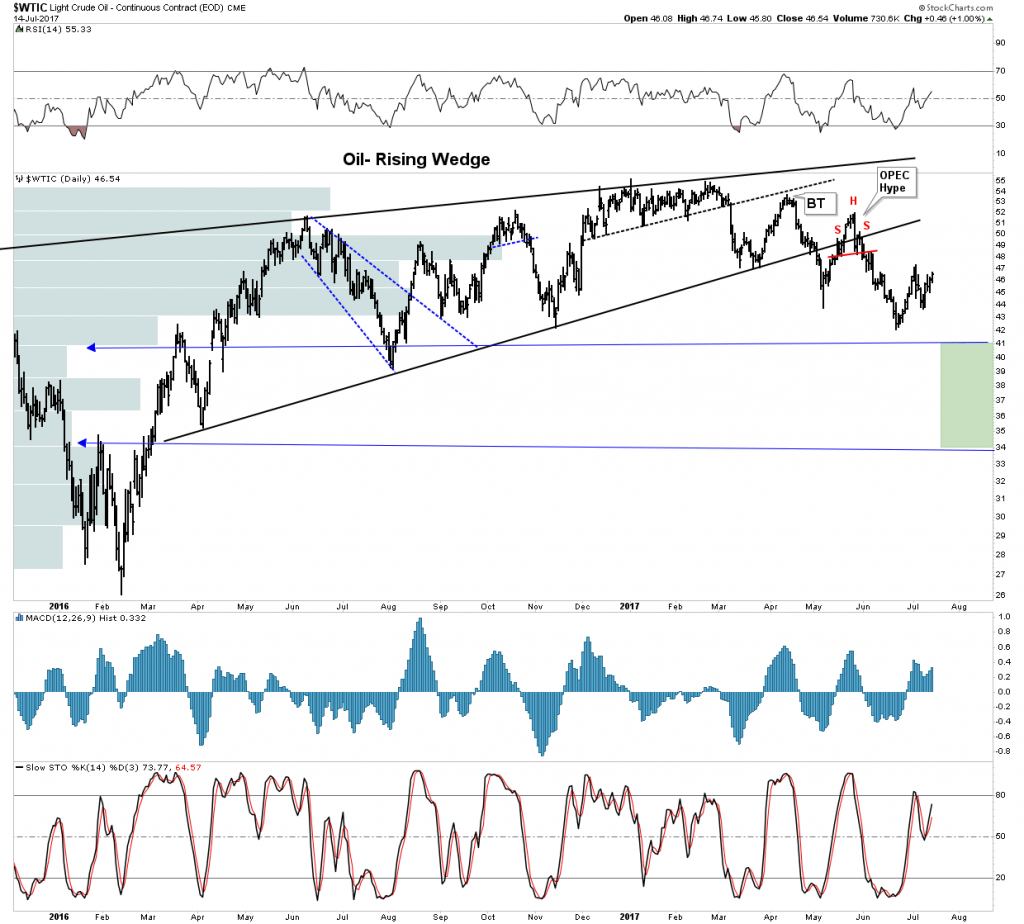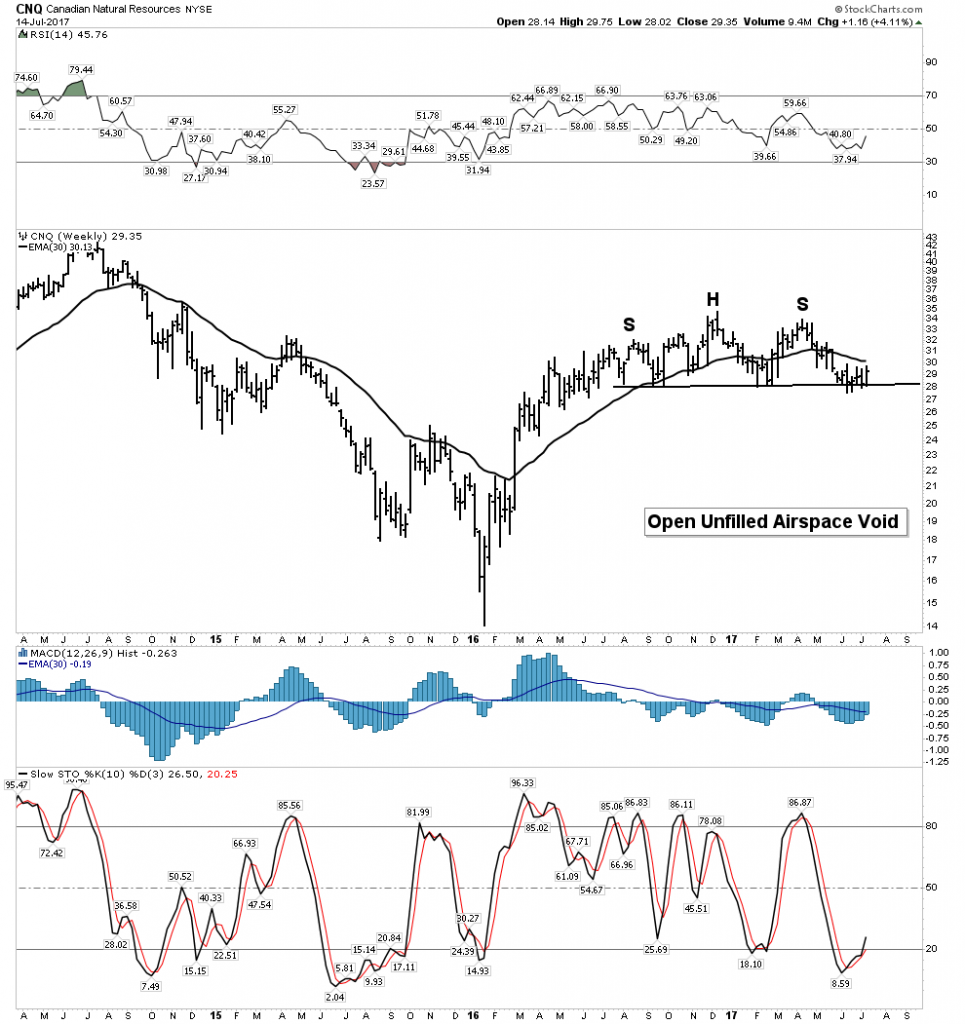 Plunger's Short Corner- IBM
I have big expectations for this short. It's playing out to chartology form. It looks to me like it is simply marching in place extending out its bear flag. At some point, it should give it up and fall out of the flag. I am being patient.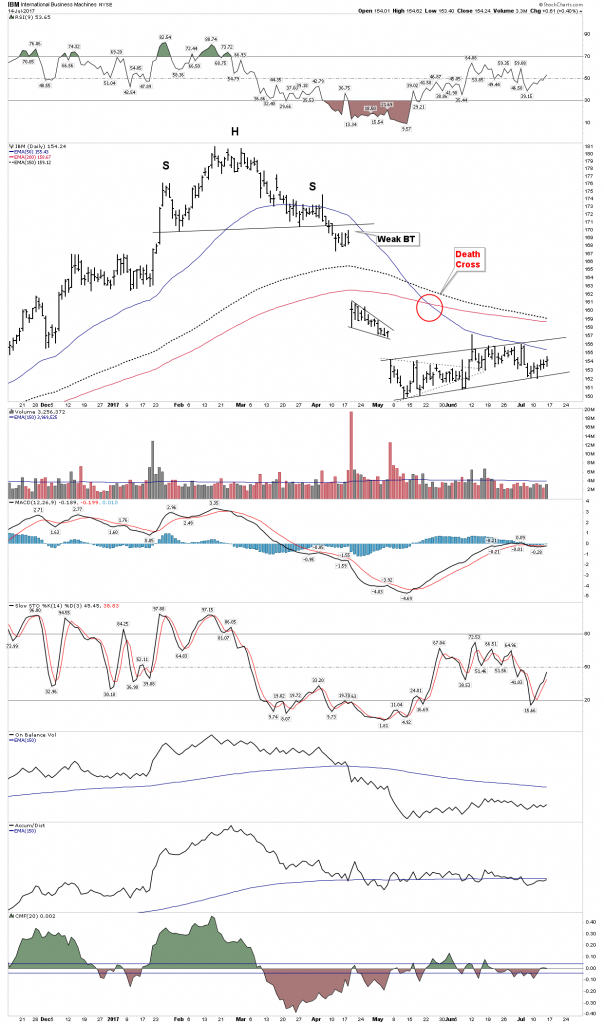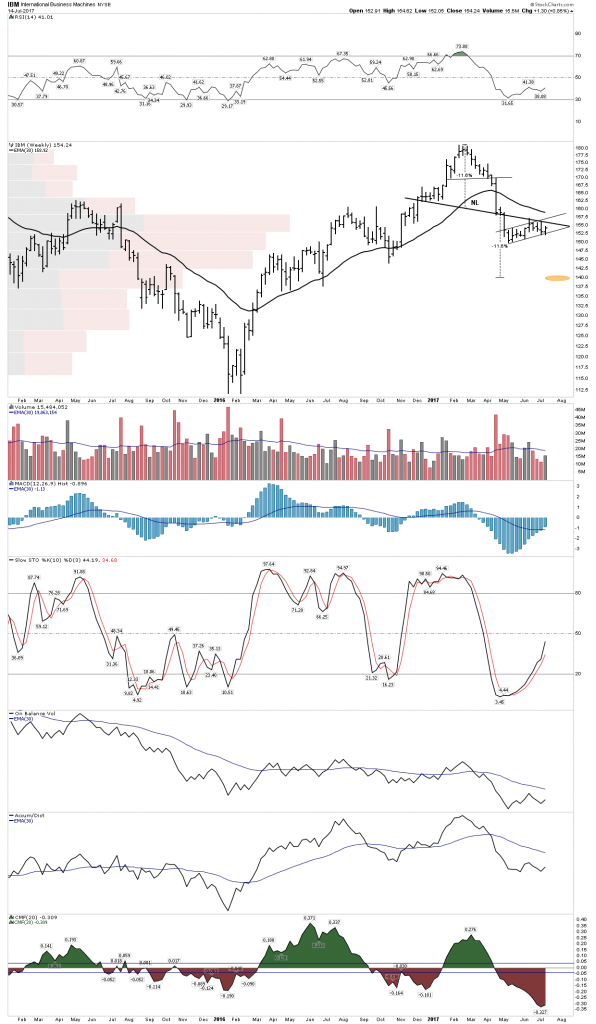 QQQ Short
I covered my QQQ short. It was a gallant try but the deep follow through I had looked for was aborted with Janet's speech sparking what I see as a short squeeze. That's the risk of shorting particularly in the early phases of a decline off the top. I may revisit the trade later on after the summer season is over. For now, we may be set-up for more of a squeeze to higher highs. Note the squeeze has been on weak volume.
But remember the principle: Losers let losers run. Again. I covered.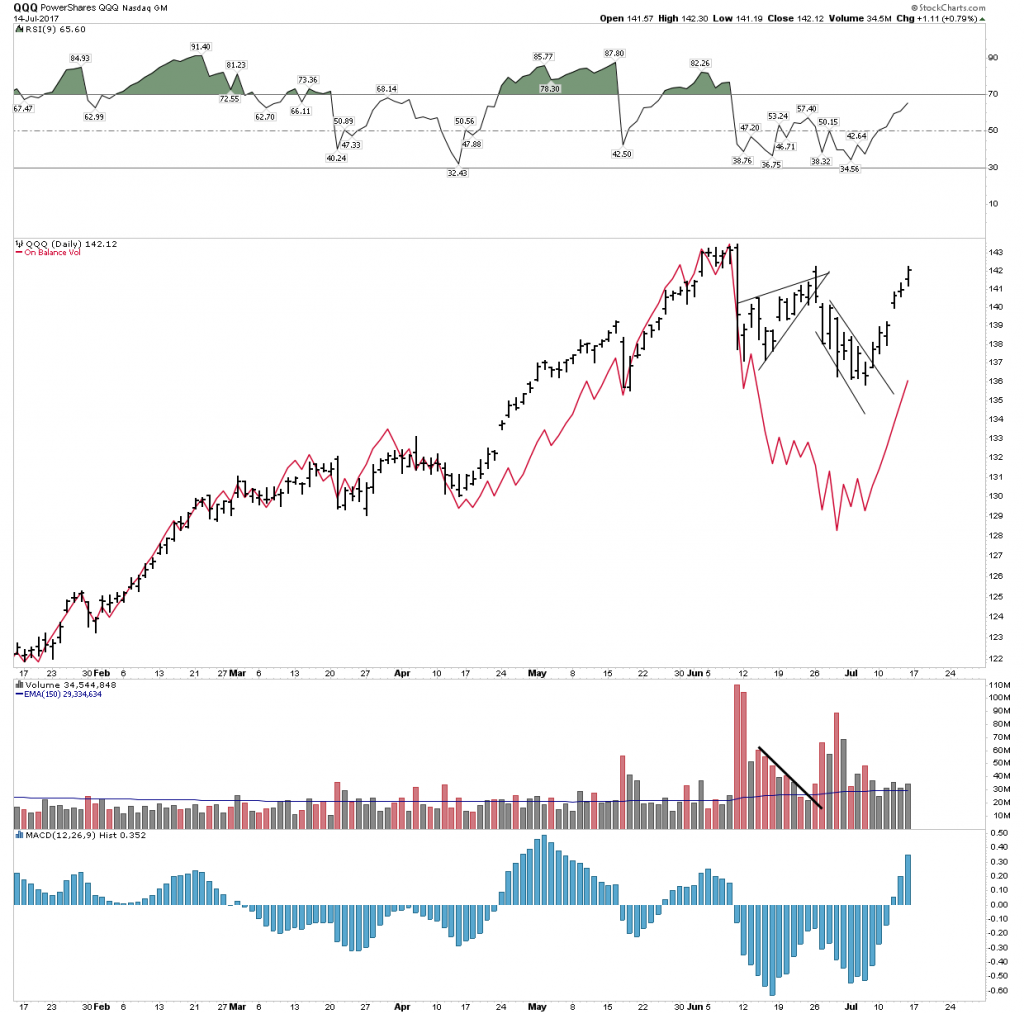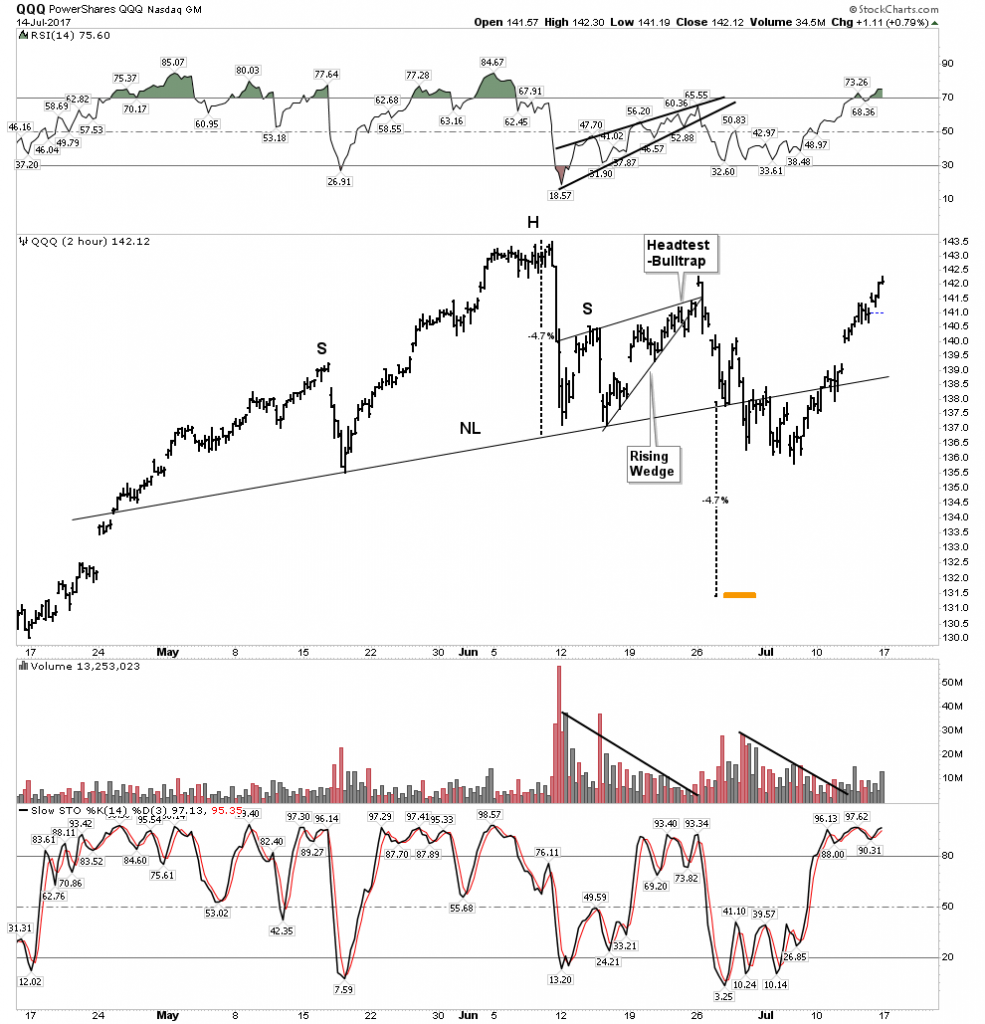 Uranium
The public is fearful of bargains– J. Paul Getty
As I mentioned in my uranium report a few months back, it is in a complex stage 1 bottoming formation. It has not broken into a stage 2, however, the price action of late has been very encouraging. Take a look at my long term CCJ chart. It is a proxy for the industry. Could it finally be putting in its low? Is the action over the past 2 years a massive inverse H&S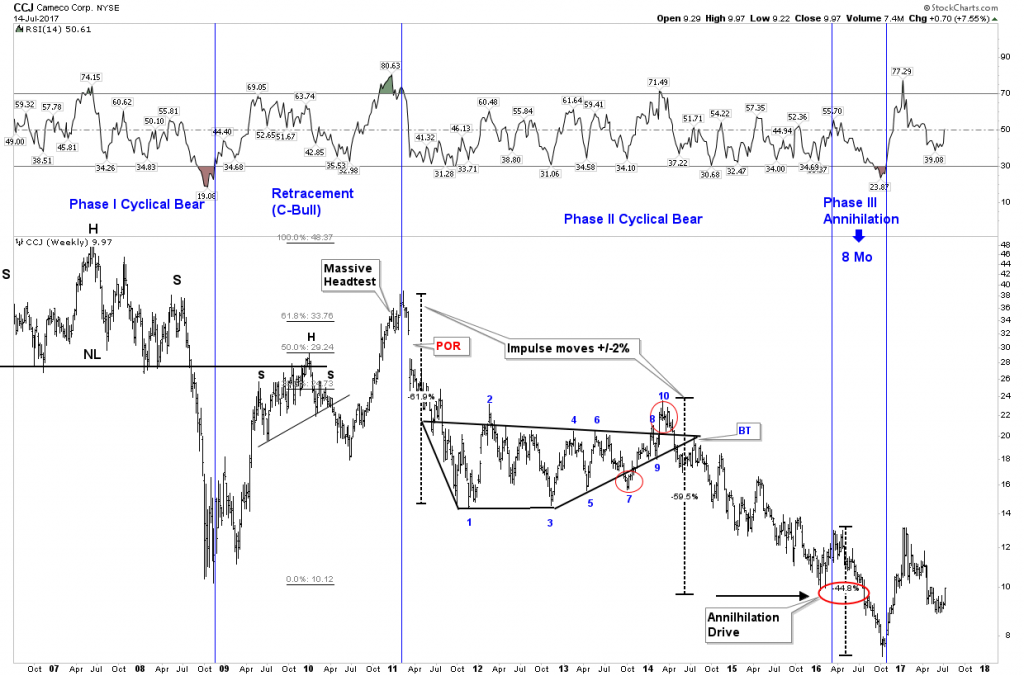 UEC looking strong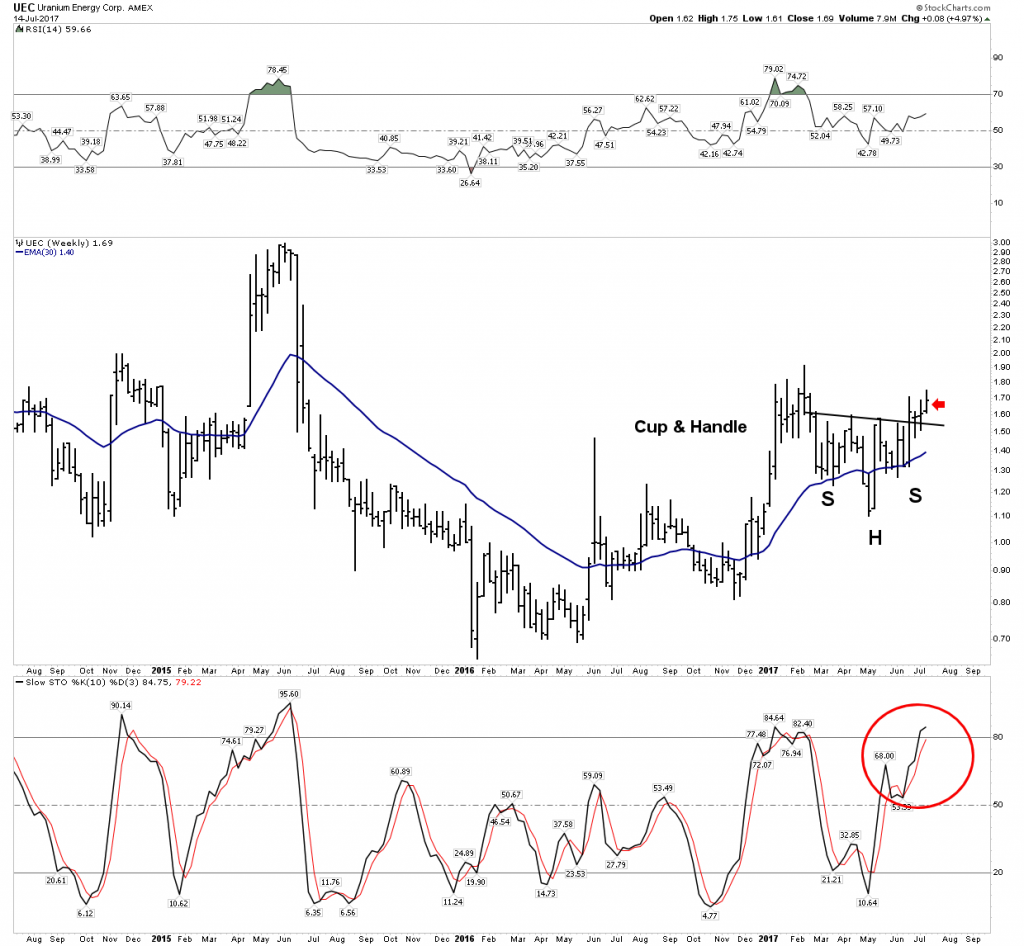 UUUU- Tracing out a bottom?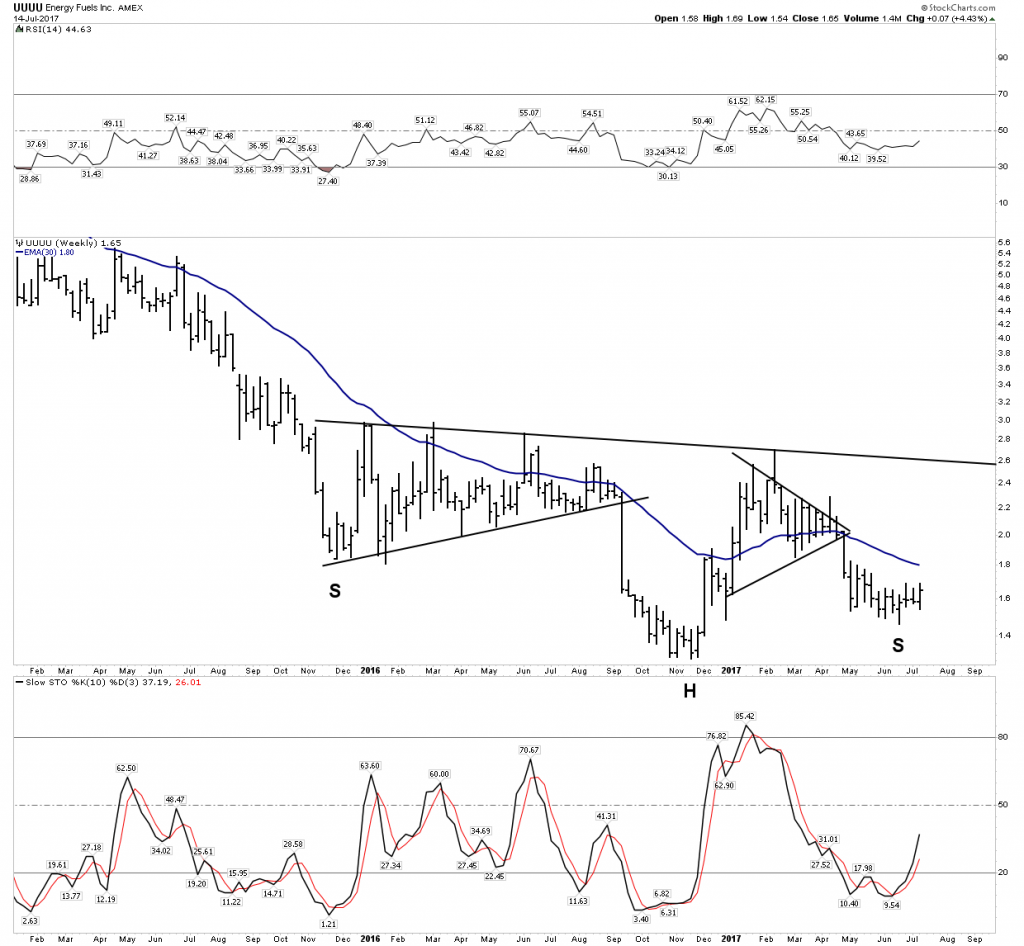 The ETF- looking promising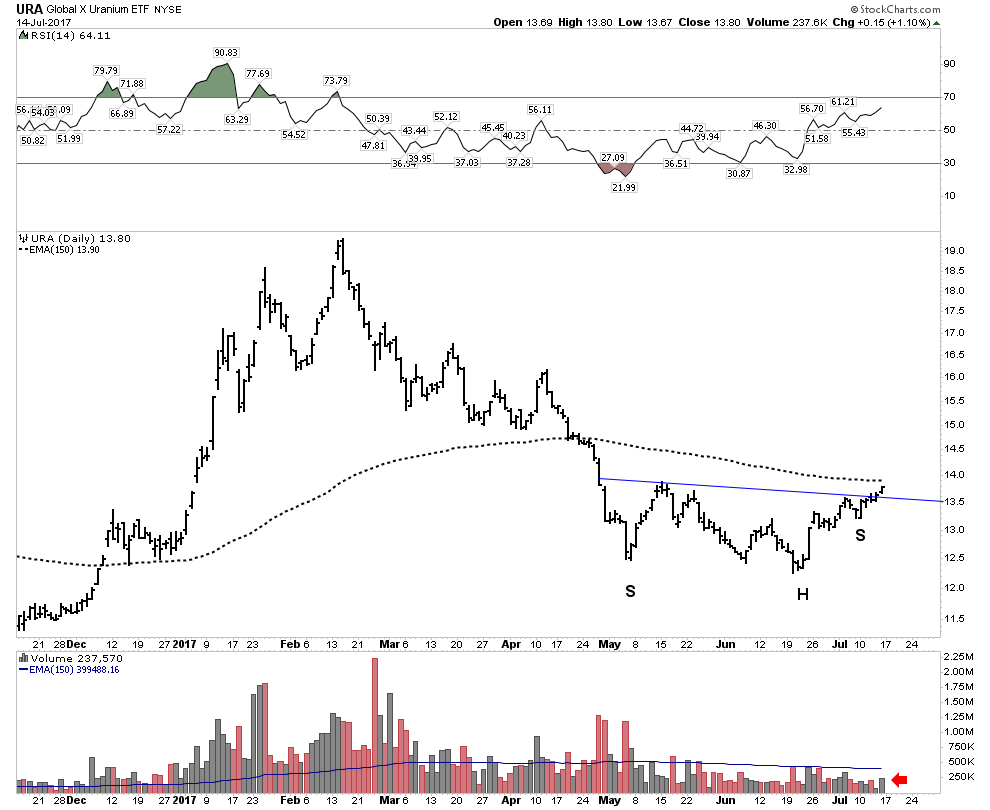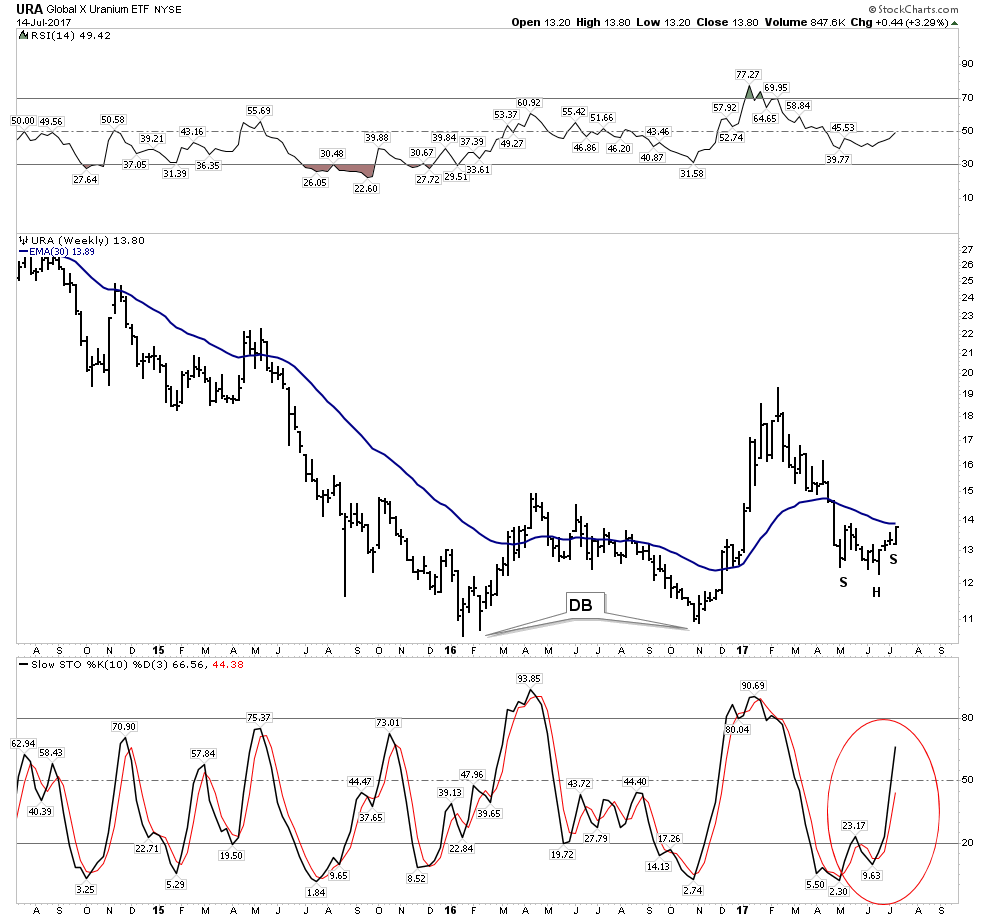 Bottom line on uranium is this is a bull market in waiting. It's just a question when it makes its transition from stage 1 to stage 2. The action in numerous shares is what this transition should look like. It's not complete yet, but has the potential to surprise in a hurry.
In the next weekend report, I would like to take a look a little closer at the tightening geo-political aspect of markets. Not interested in the politics, but the investing angle. If things get more inflamed what would be the opportunities? And its a bit deeper than just saying buy Raytheon. A lot can happen in two weeks.
Invest aggressively, but preserve capital.