We May Never Get Another Opportunity To Buy Gold At This Level Again

America has chosen Donald Trump to be its next President and the world markets, whether metals, gold, bonds, equities or Forex are all highly volatile. In fact, I got long GDX and NUGT last week for a quick 5% and 11% gain with gold miners, a get-in and get-out type of trade to take advantage of these extreme volatility levels.
While the initial projections were for a Brexit type turmoil in most markets, those predictions did not prove to be correct. The markets quickly reversed course and gave a strong Thumbs up to Trump's policies.
Trump's economic plans will increase national debt
The mammoth US debt stands at $19.8 trillion and it will increase under the new President, considering his lenient tax cuts and plans for infrastructure spending.
The proposed tax cuts, inclusive of accrued interest and macroeconomic effects will increase the national debt by $7 trillion over the next decade and by $20 trillion in the next two decades, according to Forbes. There is no detail on how the President-elect plans to finance these tax cuts.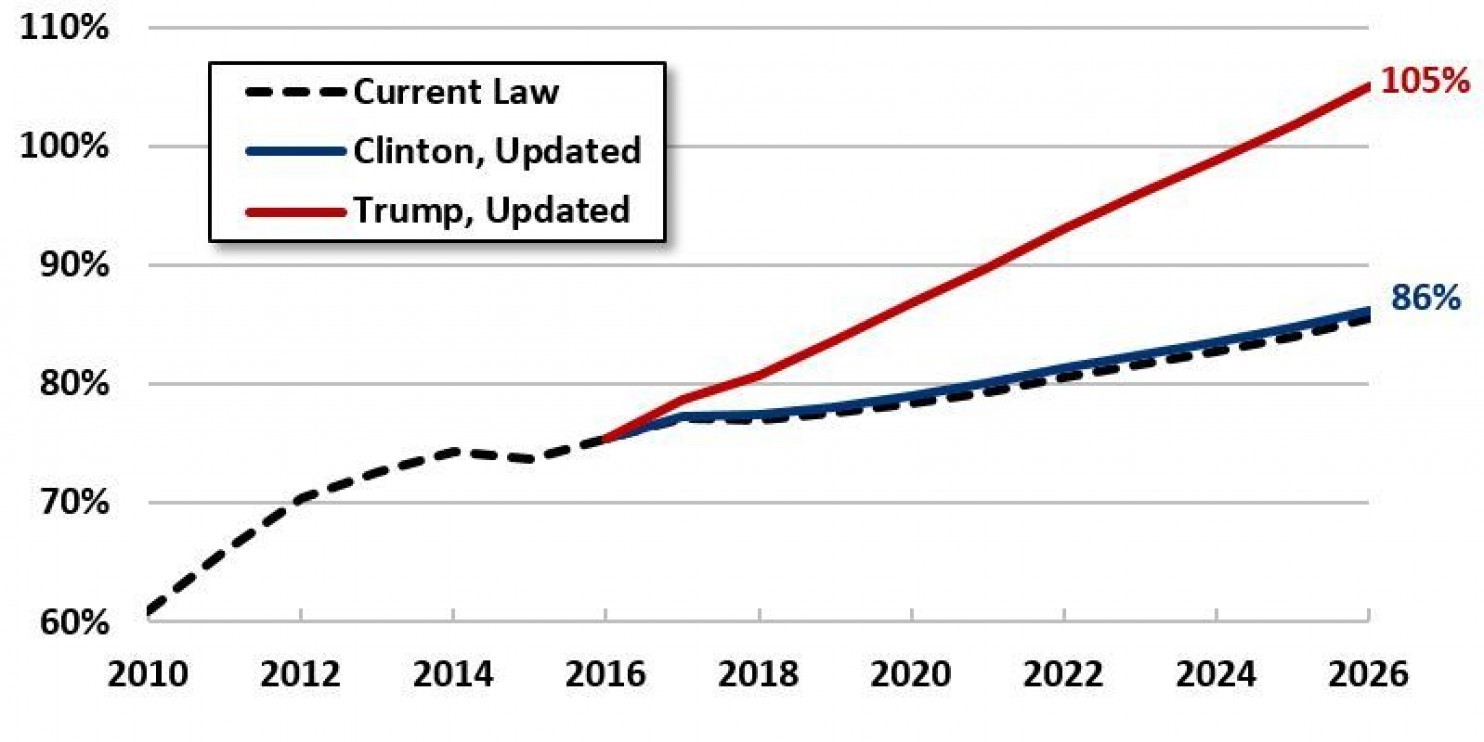 Though Trump says that he will make it deficit-neutral, there are no specifics available at this point in time.
All these will stoke inflation, which is what the investors are focused on right now and as a result, the safe havens are being dumped, while risky assets are on the rise.
The dollar is flying as higher inflation is likely to force the FED to increase rates at a much faster pace than previously anticipated.
Protectionism will dent part of the above benefits
Candidate Trump had radical plans to tear long-standing trade agreements like the NAFTA, levy taxes on the Chinese imports, etc.
However, in a highly global world, every action that President Trump takes will have an equally strong reaction. This global trade war is unlikely to benefit either the US or the global economy, which is already struggling with anemic growth.
It is not clear if the US public will be happy to pay higher prices for the imported goods. After all, offshoring has also given a boost to the American industries, which have managed to bring down their cost of production. A costlier iPhone is likely to reduce the demand for the product, both at home and abroad.
Disclosure: If you want to know where the market is headed each day and week, well in advance then be sure to join my ...
more