Do Themes Of Yen Weakness, Dollar Strength Have Continuation Potential?
Post-Rate Hike USD – Watch DXY Resistance at 97.50
The Fed's rate hike on Wednesday drove a bit of strength into the Greenback, with follow-thru price action continuing through the European session on Thursday. But since DXY encountered the 97.50 level on Thursday morning, buyers have been unable to push through resistance, and this leaves the Greenback without any significant trend to speak of. On the 4-hour chart below, we're looking at this recent move in DXY.
(Click on image to enlarge)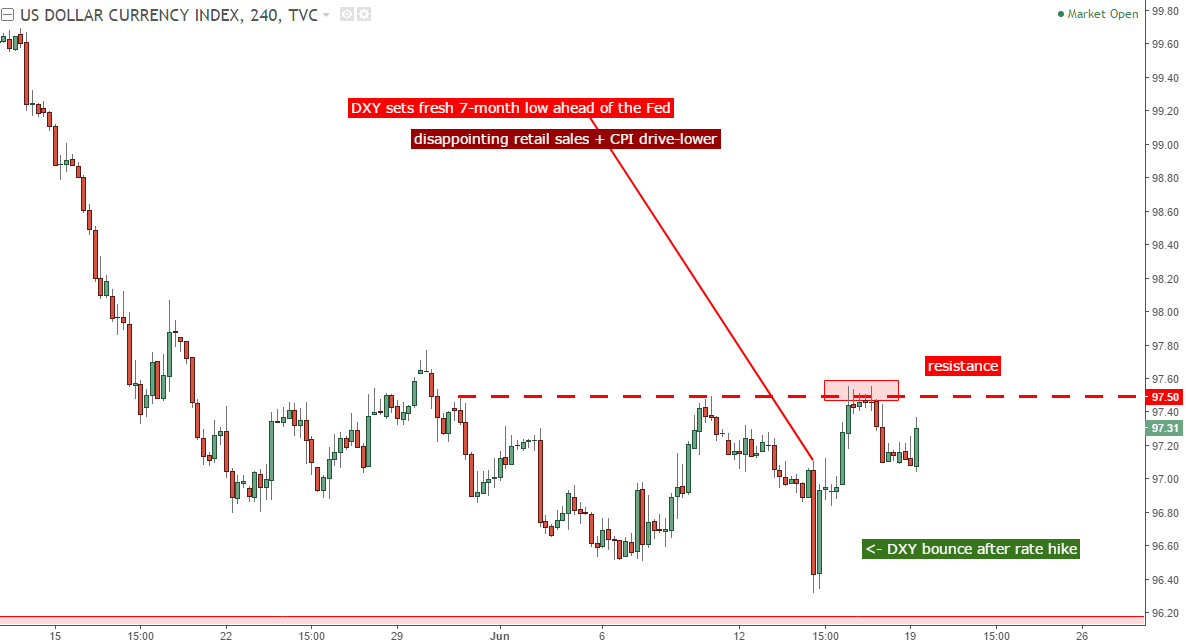 We may be seeing the initial stages of a bullish push: DXY spent approximately 16 hours testing resistance on Thursday leading into Friday before buyers finally relented. But after sellers drove prices-lower, buyers showed back-up at the 38.2% retracement of the recent bullish move. On the hourly chart below, we're getting a bit more in-depth as we look at this potential bullish turn. As long as price action on DXY remains above the 50% retracement of this recent bullish move at 96.94, there is topside potential, particularly for intermediate-term, swing-trading types of approaches.
(Click on image to enlarge)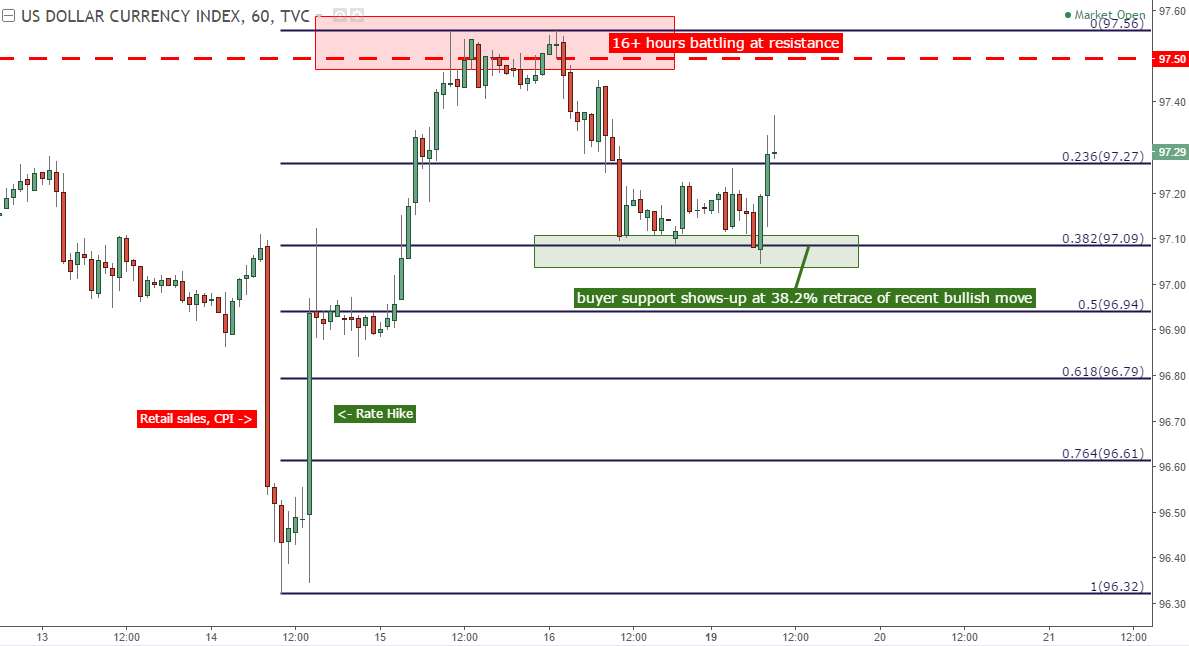 Yen Weakness Last Week's 'Big' Takeaway
Last week brought a series of Central Banks to the fold, and while we did get an actual rate hike from the Fed along with a very interesting hawkish tilt from the Bank of England, the biggest takeaway was probably the Central Bank meeting where the least actually happened; and we're referring here to the Bank of Japan. While the BoJ's rate decision was without fanfare or fireworks, Yen weakness showed as a prominent theme again after Governor Kuroda did his best to allay tapering concerns. So, while traders the world-around are attempting to front-run the ECB's inevitable exit from stimulus, whether that happens in December of this year or later, markets appear to be giving the BoJ a bit more room to work.
And this isn't necessarily a 'new' theme, as we saw this show prominently in the post-Election backdrop. But perhaps more interesting is the fact that we saw an aggressive spate of Yen strength in May after Governor Kuroda gave the off-hand comment that he was 'quite sure' that the BoJ could exit from stimulus 'smoothly' when the appropriate time came. This took markets by surprise, because up until that point, Governor Kuroda and the BoJ had continually said that they weren't at the point of thinking of stimulus exit. But when Kuroda commented that he was 'quite sure' that the BoJ could smoothly exit, that range alarm bells, as a Central Banker talking about stimulus exit is obviously a Central Banker thinking of stimulus exit; and Yen strength was the order of the day after that comment came-out.