Yuan Eyes On PBOC's Guidance, Private Investment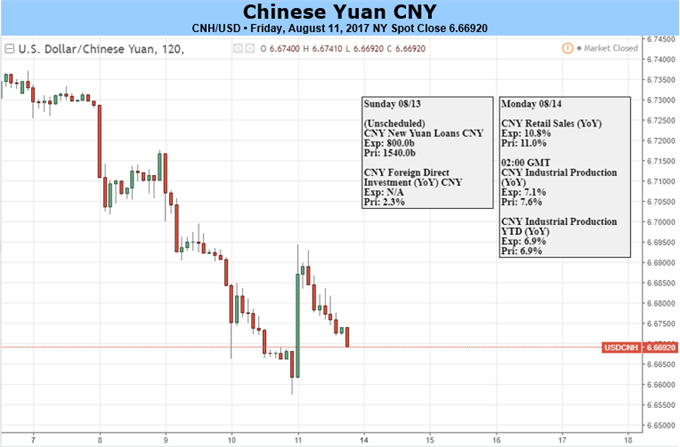 Fundamental Forecast for CNH:
August 11th marked the second anniversary of the PBOC de-pegging the Yuan against the U.S. Dollar. Over the past week, the Yuan had the largest weekly gain against the Dollar in two months, with the USD/CNH dipping 6.6574, the lowest level since September 2016. The Yuan fix, set by the PBOC, was strengthened by 490 pips or +0.74% to 6.6642 on Friday from a week ago; this largely contributed to Yuan's rally against the Dollar in both the onshore and offshore market. Looking forward, the PBOC's guidance will continue to be in the spotlight; event risks from China will likely add volatility to Yuan rates as well.
The USD/CNH has been ignoring U.S. drivers this week: in the first few days of this week, the Yuan strengthened against the Dollar despite of the rising risk aversion in global markets driven by tensions between the U.S. and North Korea. Normally, the Yuan is not considered to be a risk-off asset; also, taking into account China's role in U.S.-North Korea talks and China's geological location, any armed conflicts between the U.S. and North Korea would do more harm to China than bring benefits, and in turn, this could concern investors who hold Yuan-denominated assets. Yet, with PBOC's strong guidance, the Yuan gained +0.98% against the U.S Dollar in the onshore market and +0.93% in the offshore market this week.
On May 26th, the PBOC introduced a "counter-cyclical factor" in calculating the Yuan fix, which is designated to make short-term Yuan moves less predictable and reduce one-way bets on Yuan rates. This past week is an instance that the Chinese policymaker uses the counter-cyclical factor to magnify the influence of the Yuan fix to markets. Also, unlike the previous instances of Yuan's sudden rises, Yuan's overnight funding costs in the offshore market remained stable, below 2%. This may hint at the regulator's shift on policy tools when it comes to guide the forex exchange market. As a result, investors will want to continue to keep an eye on the Yuan fix in the next week.