The Monetary Wildfires In Canada
The massive wildfires in Alberta earlier this year had a tremendously negative effect upon not just the oil sector but all of Canada. Not surprisingly, Canadian GDP released today was abysmal. Falling 1.6% in Q2, that was the worst quarter since 2009. Fortunately for the Bank of Canada who had been "stimulating" again since last July when it cut the overnight rate by 25 bps to 0.50%, the wildfires give its policies some cover to explain what would have been otherwise already dismal.
Pre-report estimates showed that the wildfires were expected to contribute about 1% to 1.1% of the GDP decline. Thus, even without the hellish conflagration across a huge chunk of Alberta's oil production fields Canadian GDP would still have contracted in Q2. After such an atrocious and devastating year last year, as "transitory" oil prices crashed the Canadian economic margins, 2016 was supposed to be the year to forget all that.
Instead, what we find in Canadian GDP is what we find almost everywhere else – unstable growth. From the start of 2015, GDP has contracted in half of the six quarters since; and of the other three, one, Q4 2015, was near zero, leaving just two quarters as significantly positive where even the best was just 2.5%.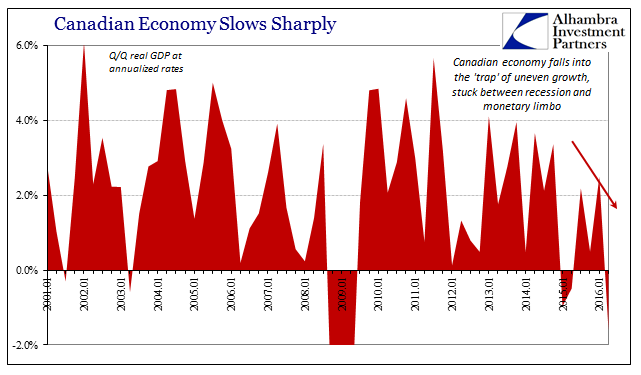 While much was made of the two negative quarters to start last year in terms of the "technical recession" definition, and thus positive growth thereafter as surely the recovery, what has followed is significantly worse than recession which is again in common with the rest of the global economy. While the word "recovery" has been used far too loosely since 2009, a recovery means exactly that. The recession pushes output below potential or trend but only temporarily, while recovery pushes output right back to the prior baseline.
That is not what we find here in Canada. The decline in output in early 2015 coincident with the global arrival of "dollar" disruption drove the Canadian economy lower like recession but the uneven nature of output in the quarters since keep it far off trend.