T2108 Update – Overbought Conditions End With The Nasdaq Leaning Against Bearish Hints
(T2108 measures the percentage of stocks trading above their respective 40-day moving averages [DMAs]. It helps to identify extremes in market sentiment that are likely to reverse. To learn more about it, see my T2108 Resource Page. You can follow real-time T2108 commentary on twitter using the #T2108 hashtag. T2108-related trades and other trades are occasionally posted on twitter using the #120trade hashtag. T2107 measures the percentage of stocks trading above their respective 200DMAs)
T2108 Status: 64.0% (ends 3-day overbought period)
T2107 Status: 64.5%
VIX Status: 11.6
General (Short-term) Trading Call: cautiously bearish
Active T2108 periods: Day #221 over 20%, Day #41 over 30%, Day #40 over 40%, Day #38 over 50%, Day #32 over 60% (overperiod), Day #1 under 70% (underperiod, ends 3-day overbought period)
Commentary
In my last T2108 Update, I described a surprising bearish divergence for the S&P 500 (SPY). Today's edition confirms the bearish divergence with the tech sector providing a lingering protest.
T2108, the percentage of stocks trading above their respective 40DMAs, plunged out of overbought conditions and closed at 64.0%. This move was a one-month closing low. The S&P 500 (SPY) fell fractionally at 0.4%. I would have expected a bigger drop except for the mildness of the move the previous day. Note that both PowerShares S&P 500 Low Volatility ETF (SPLV) and PowerShares S&P 500 High Beta ETF (SPHB) fell further than the S&P 500 (-0.8% and -1.0% respectively) and seemingly confirmed the bearish turn of events. However, the NASDAQ (QQQ) was an important holdout. The tech-laden index managed to print a small 0.2% gain with Apple (AAPL) leading the way with a 0.9% gain and a new 52-week high. Facebook (FB) was one of the important big-cap tech stocks that managed to beat out Apple on the day. Together, they stood up and out against the otherwise accumulating bearish evidence.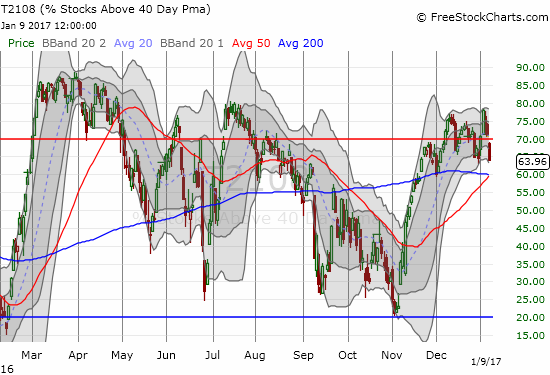 T2108 dropped sharply out of overbought territory (70%)
Full disclosure: long SDS, long and short positions on the U.S. dollar, long BBY put options.
Follow Dr. Duru's commentary on financial markets ...
more