Stocks Fail To Hold Gains, But Still No Correction
The U.S stock market indexes lost 0.2-0.7% on Wednesday, as investors continued taking profits after week-long rally from February 9 lows. The S&P 500 index extended its short-term fluctuations along the level of 2,700-2,750. It retraced more than 61.8% of its late January - early February sell-off. However, it bounced off that resistance level again and reversed its intraday uptrend following the FOMC Minutes release at 2:00 p.m. The broad stock market index currently trades 6% below January 26 record high of 2,872.87. The Dow Jones Industrial Average lost 0.7%, and the technology Nasdaq Composite lost 0.2% on Wednesday.
The nearest important level of resistance of the S&P 500 index remains at around 2,740-2,750, marked by 61.8% retracement of the whole move down from late January record high (2,742.92) and its Friday's local high. The resistance level is also at 2,760-2,765. On the other hand, support level is at 2,700, marked by recent local lows. If the market continues lower, potential support level would be at around 2,670.
The index reached its record high almost a month ago on January 26. It broke below month-long upward trend line, as it confirmed uptrend's reversal. Then the broad stock market gauge retraced all of its January rally and continued lower. The index extended its downtrend on February 9, as it was almost 12% below the late January record high. We can see that stocks reversed their medium-term upward course following whole retracement of last month's euphoria rally. However, the market bounced off its almost year-long medium-term upward trend line, and it retraced more than 61.8% of the sell-off within a few days of trading. Is this still just an upward correction or uptrend leading to new all-time highs? For now, it still looks like an upward correction:
(Click on image to enlarge)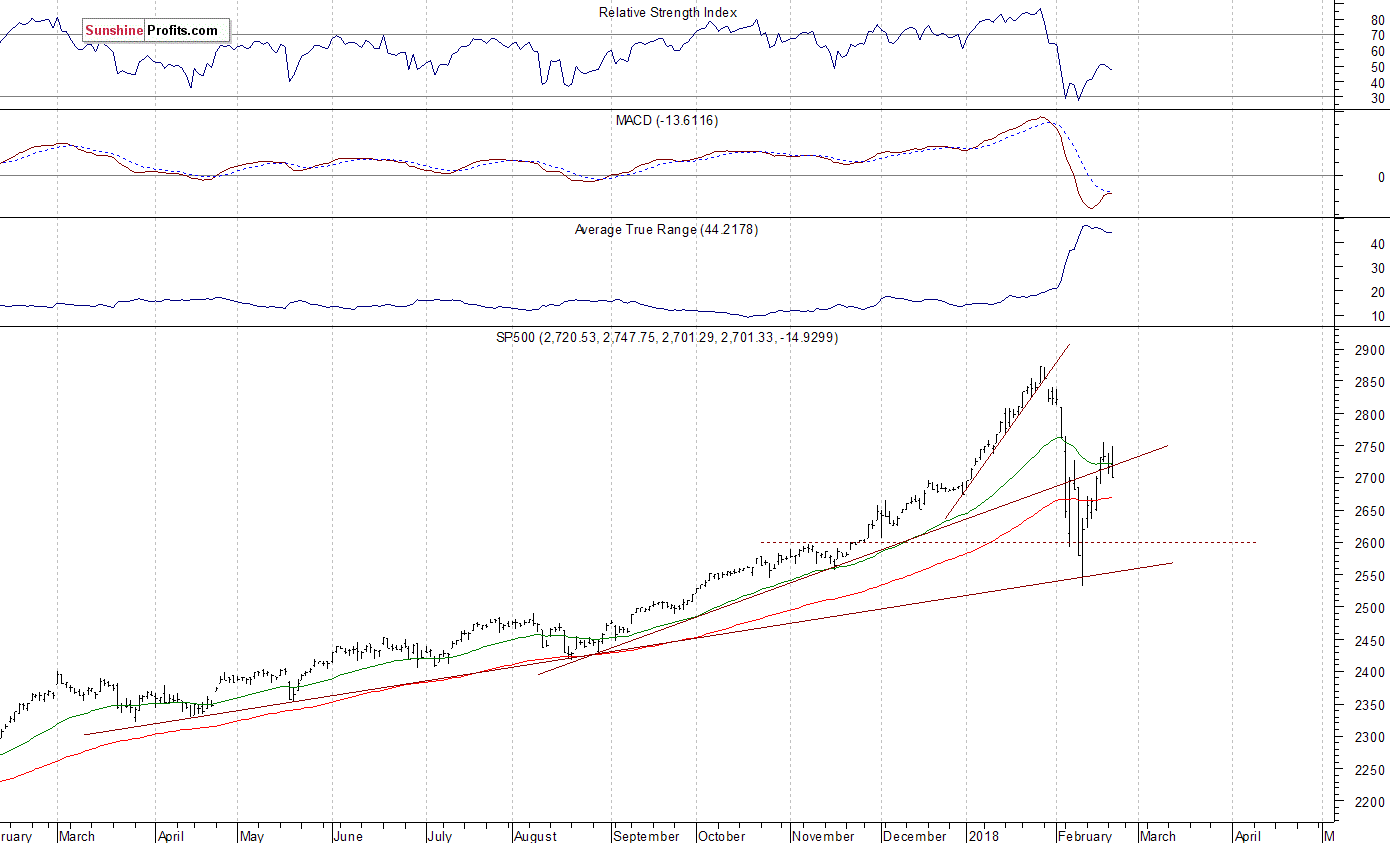 Mixed Expectations
The index futures contracts are trading between 0.0 and +0.2% vs. their yesterday's closing prices right now. It means that investors' expectations ahead of the opening of today's trading session are virtually flat to slightly positive. The European stock market indexes have lost 0.4-0.9% so far. Will stocks continue their short-term move down? It's hard to say, because yesterday's closing price fell close to support level of 2,700. If it breaks lower, it could continue to the next support level of 2,670. Investors will now wait for some economic data announcements: Initial Claims at 8:30 a.m., Leading Indicators at 10:00 a.m., Crude Oil Inventories at 11:00 a.m.