Lithium Prices To Stay High To 2024–UBS
TM editors' note: This article discusses a penny stock and/or microcap. Such stocks are easily manipulated; do your own careful due diligence.
Lithium prices will remain well above historical levels thru 2024, UBS Securities said on Thursday June 15, as electric car batteries reach cost parity with ICE—Internal Combustion Engines—in mid 2018. They suggest that will spark a huge increase in demand; one that the lithium supply chain will be hard pressed to meet.
Lithium and cobalt are two obscure metals that are key ingredients in batteries that will be used for Electric Vehicles, and both residential and utility power storage for renewable energy sourced from wind and solar.
Lithium is like the "frac sand" of the new, greener, energy era.
UBS' June 15 report—entitled Driving Disruption—is also positive news for investors in developing lithium brine plays, suggesting gross profit margins will be over US$5000/ton for years.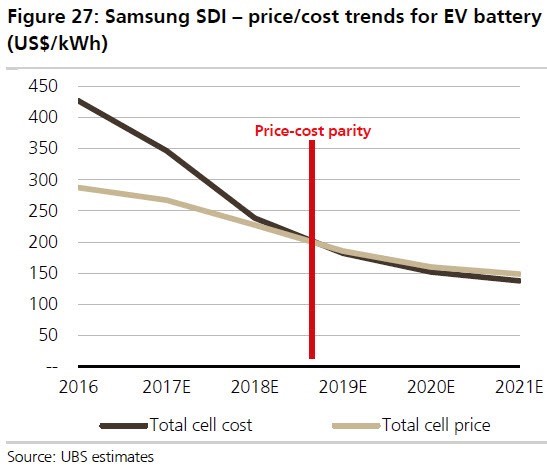 UBS says falling battery costs and simultaneous improvements in battery capacity and performance will drive Electric Vehicle (EV) sales. Costs will drop even more as technology improves and the scale of the industry increases. Government incentives in Europe and China are big tailwinds, UBS added.
The only bump in the road for lithium that they see is that current prices—a record US$12 per kilogram (or US$12,000 per ton)—is likely to drop to $9 after 2018.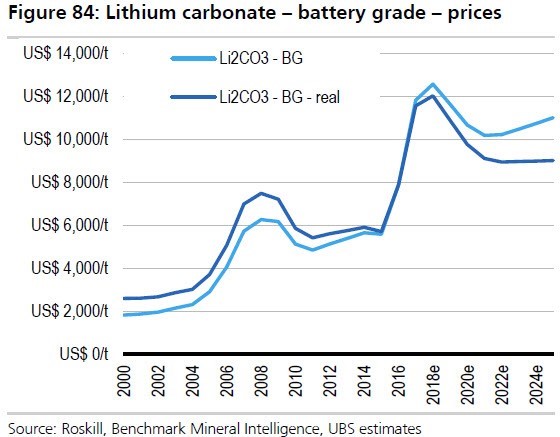 Lithium is sourced through either hard rock deposits, which are mostly in Australia, and through liquid brines, which are mostly on the Chile/Argentina border at 3000 metres (9,800 feet).
The chart below shows the cost profiles of both brines (in blue) and hard rock deposits around the world. Brines are clearly the most profitable—and from UBS' predictions, will stay that way:
If prices are $9000 per ton, and costs are only $3000/t—that's some very good profit!
Disclaimer: Under no circumstances should any material in this site be construed as an ...
more