Global Asset Allocation Update - Monday, June 19
There is no change to the risk budget this month. For the moderate risk investor, the allocation between risk assets and bonds is unchanged at 50/50. There are no changes to the portfolio this month.
(Click on image to enlarge)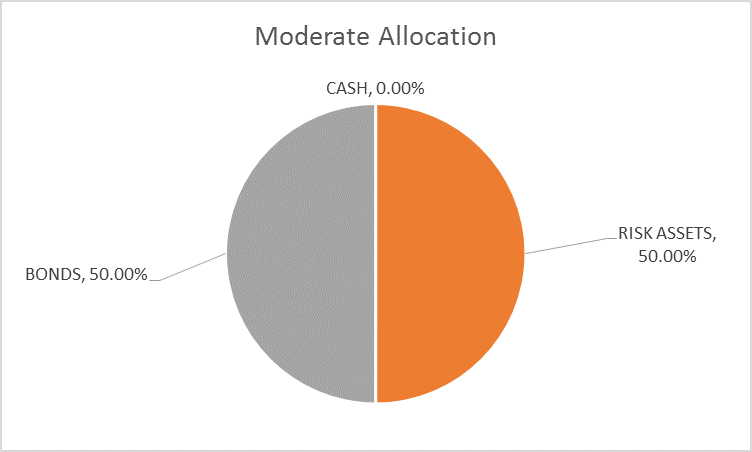 The growth and inflation outlook continued to weaken somewhat since last month's update. Certainly nothing very dramatic though, just a general, gentle trend of weaker growth and inflation expectations within the US. International markets continue to outperform their US counterparts as the dollar continues to weaken. Commodities confirm the weaker growth view although there does seem to be a subtle momentum shift toward natural resource stocks. That, combined with firmer action in the Canadian and Aussie dollars, may be pointing to future gains in the commodity complex.
US stocks continue to perform well despite the economic environment, the S&P 500 sitting at new highs even as I write this. But the leaders of the last month are all interest rate sensitive, a reflection of the recent spate of weak data.
(Click on image to enlarge)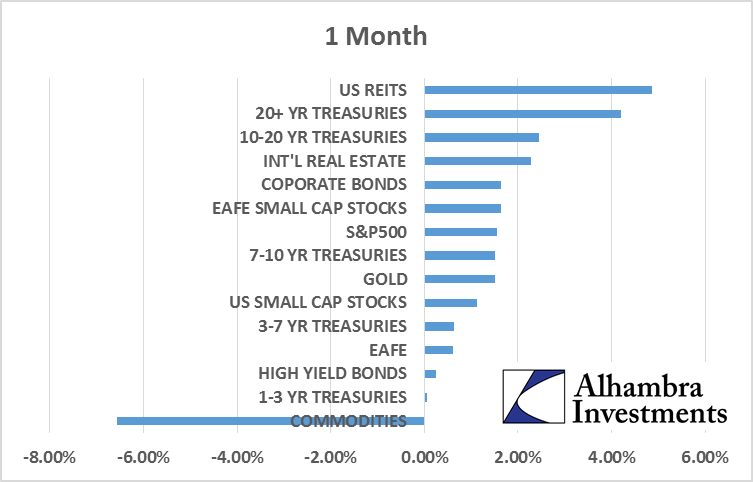 Over the last three months, interest sensitive assets such as bonds and real estate still rank high but the leaders are international stocks.
(Click on image to enlarge)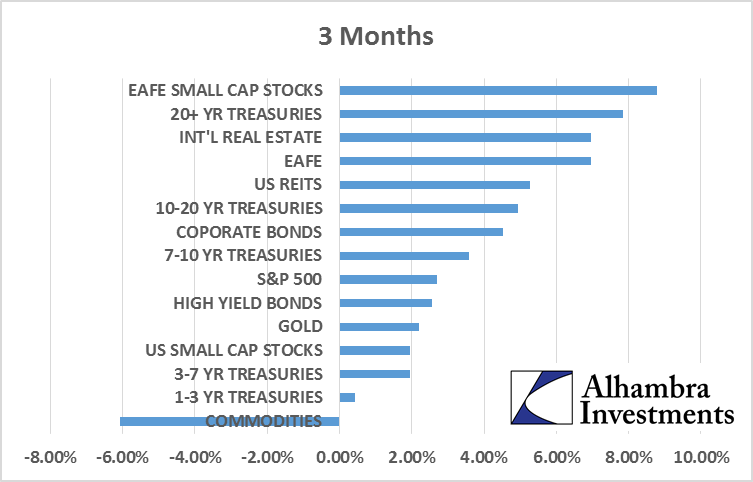 The outperformance of international markets, like the weakening of the dollar, is driven by the relative change in economic growth expectations between the US and the rest of the world. European economic growth appears to be on the rebound – a cyclical improvement – and the election results since Brexit have been perceived as positive. The EM growth and inflation outlook is also improving, allowing rate reductions in many of these countries that had jacked up interest rates in futile attempts to protect their currencies. Japan is also performing better although one might need to squint to see it.
The falling dollar acts as a tailwind for the international markets we have overweighted. Owning EAFE, EM and Japan also means owning Euros, EM currencies and the Yen, all of which are rising against the dollar recently. The current downtrend in the dollar is quite young and if past is prologue probably has a long way to go. That could change if the Republicans are able to make further changes in economic policy but that seems remote, at least for this year. Politics plays no role in our investment process though so I won't be making any changes based on what might happen. If the market deems policy changes likely it will show up in the bond, currency and commodity markets. So far, the only market that still seems optimistic about policy changes is the stock market. Without confirmation from other markets that has little impact on our process.
Disclosure: This material has been distributed for informational purposes only. It is the opinion of the author and should not be considered as investment advice or a recommendation of any ...
more