Dow Jones Industrial Average Craters 276 Points As Chinese Stocks Crash
How Did the Stock Market Do Today?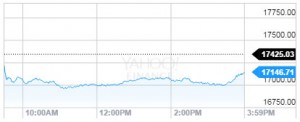 Dow Jones: 17,148.94; -276.09; -1.58%
S&P 500: 2,012.66; -31.28; -1.53%
Nasdaq: 4,903.09; -104.32; -2.08%
The Dow Jones Industrial Average today (Monday) fell more than 450 points in mid-morning hours before cutting losses and finishing down 276 points on the day. The downturn was the worst first day of trading to kick off a year since 1932, an ominous sign for investors.
Why did the Dow Jones Industrial Average face such a huge rout? Blame China. This morning, mainland Chinese stocks cratered nearly 7% before trading was suspended. Global markets remained on alert after Chinese factory activity fell for the 10th consecutive month, renewing concerns about the world's second-largest economy and whether its massive stimulus efforts and currency manipulation are enough to facilitate export and domestic demand.
Top Stock Market News Today