Commitment Of Traders: Crude Confounding Confusion
The price of oil can't seem to climb out of the $40's despite a lot going for it at the moment. Oil prices matter right now as much as three years ago when they signaled serious trouble ahead. For them to get above $50 and then continue on would indicate for a lot of important places what everyone has expected of "reflation."
That would be true for inflation rates as well as other pessimistic prices like eurodollar futures and UST yields. Crude oil isn't strictly a perception to be traded. There is black gold all over the world that is moved around, stored, and ultimately used. It is the intersection of finance and economy, the very real economic check of financial, sometimes monetary assumptions.
The primary problem for the oil market is and has been inventory. The monetary expectations for QE brought back $100 oil (just as erroneous monetary expectations for the Fed overdoing it in 2007 and early 2008 first brought about $100 oil) and with it the shale boom. Oil supply rose sharply but then in 2014 demand suddenly softened followed by harsher reductions. The result was a pile of inventory that lingers three years later.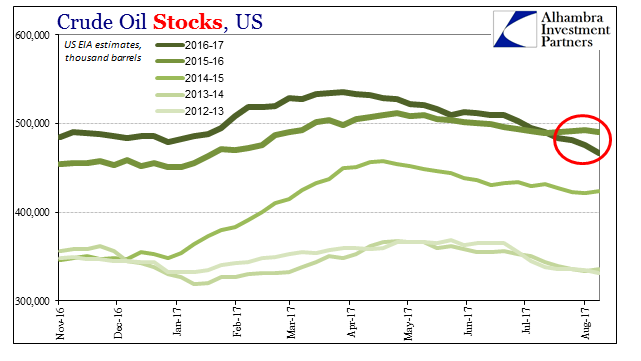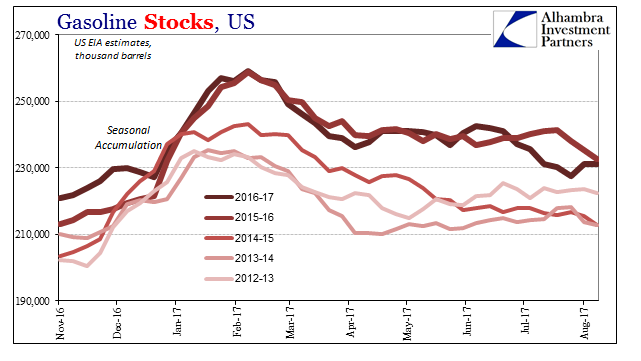 Producers adjusted and the economy improved, or at least stopped getting worse, meaning that oil demand has come back for that lower supply. Inventories are finally being drawn down. The pace of it is debatable, but in recent weeks at least there is less oil in the US sitting around than at the same time last year. Progress can be measured for many in such small steps (gasoline, however, is another story).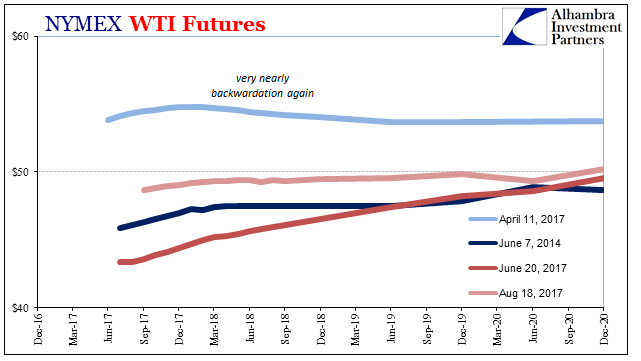 In my view it isn't all that encouraging, but to many others it is. The oil futures market next to UST's is perhaps the deepest and most crucial. As of the latest weekly Commitment of Traders Report (COT), open interest was 2.2 million contracts representing 2.2 billion barrels of crude oil.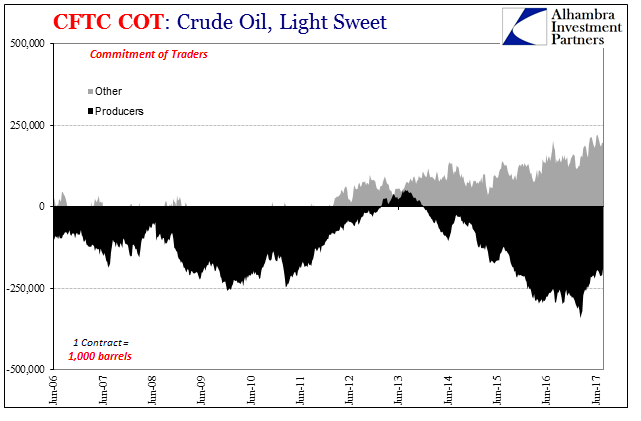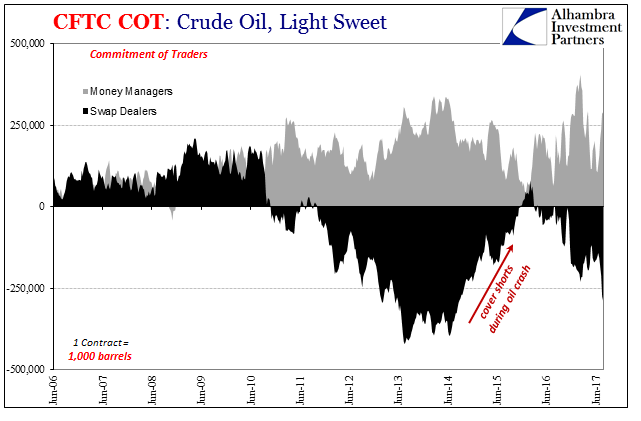 The crude oil futures market is essentially four different segments. Like the futures market for US Treasuries, a lot has changed since 2011. Swap dealers were once as long as Money Managers, but now are essentially the other side of them. Similarly, the "other" category of futures traders (includes speculators) has become something of an offset to the producers. It is for this last segment that these futures markets were originally intended, as a place for production hedging via forward (future) sales.
Disclosure: This material has been distributed fo or informational purposes only. It is the opinion of the author and should not be considered as investment advice or a recommendation of any ...
more