Above The 40 – The S&P 500 Rolls Over Dollar's Speed Bump
AT40 = 67.0% of stocks are trading above their respective 40-day moving averages (DMAs)
AT200 = 65.2% of stocks are trading above their respective 200DMAs (a TEN MONTH HIGH)
VIX = 11.1
Short-term Trading Call: bullish
Commentary
Once again the stock market was only able to maintain overbought trading conditions for 1 day. At the onset of the last overbought period, I suggested the S&P 500 (SPY) would continue to rip higher. However, a speedbump came in the form of Trump administration churn on the U.S. dollar (USD). On the third day, the dust settled with the S&P 500 emerging with another all-time high.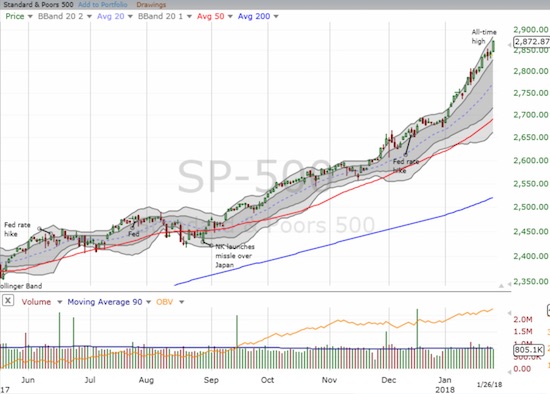 The S&P 500 (SPY) ended the week on a very strong note after a 2-day speedbump.
To my slight dismay, AT40 (T2108), the percentage of stocks trading above their respective 40-day moving averages (DMAs), did not come along for the ride. Instead, a very mild bearish divergence emerged as AT40 had to bounce off its lows just to close almost flat on the day. This fresh hesitation suggests to me that the next overbought period if it comes anytime soon, will be short-lived just like the last two.
The volatility index, the VIX, dipped for only its fourth time in sixteen trading days. The volatility faders gradually regained control last week as the VIX also faded sharply off its highs the two previous days.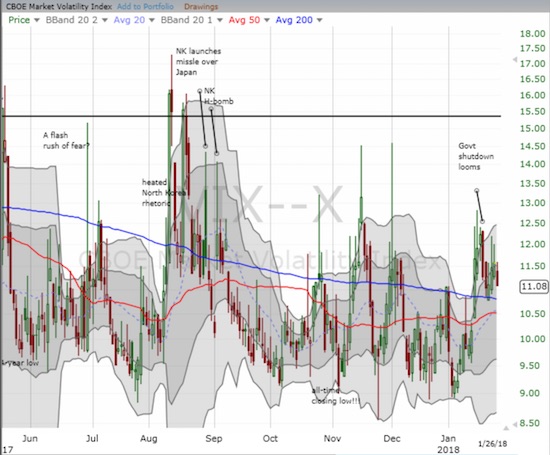 The volatility index, the VIX, has managed to hover above 7.0 in recent days. Will the line hold even as volatility faders strengthen their collective hand?
I lost a bit of discipline as I rushed to trade on the churn over the U.S.'s dollar policy. After President Trump attempt to correct Treasury Secretary Mnuchin's statement in favor of a weaker dollar, I concluded that the flip-flop would increase volatility by causing a bit of chaos in trading strategies. I rushed into fresh call options on ProShares Ultra VIX Short-Term Futures (UVXY) that quickly began to languish. With a lot of earnings on tap, an employment report, and a statement on monetary policy coming from the Federal Reserve, there is still a chance that volatility will pick up all over again. It is still remarkable that volatility can stay so slow ahead of such an important week. Regardless, I duly noted how BOTH long and short volatility products lost ground on Friday in a continuing display of dysfunction or least declining utility.
Full disclosure: long UVXY calls, long CAT calls, long KBH calls
Follow Dr. Duru's commentary on financial markets via more