Bank Of The Ozarks: The Story Of Intelligent Fanatic George Gleason
Written by Sean Iddings
In March of 1979, George Gleason II became the owner/operator of a small Arkansas community bank in Ozark, Arkansas.Gleason's background and how he purchased the bank was anything but ordinary. The 25 year old former attorney had zero banking experience and only $10,000, but was able to convince a Little Rock Arkansas bank to help finance the $3.6 million purchase of Bank of the Ozarks (OZRK). It didn't matter that Gleason had zero banking experience. He, like other intelligent fanatics, possessed all the right qualities to achieve unusual results and those who knew him could guess he'd be successful.

Since George Gleason's arrival in 1979, Bank of the Ozarks has grown total assets from $28 million to roughly $18 billion today. Each year the bank has been profitable and not surprisingly, the bank was prepared during the financial crisis. Fifteen acquisitions have occurred since 2010 making Bank of the Ozarks the largest bank in Arkansas. Investors who partnered with George Gleason in the bank's 1997 IPO, have achieved a 22% compounded annual return, including dividends. To contrast, the S&P 400 mid cap index has only returned 10% annually and many competing banks have earned less than 4%. Just like our other intelligent fanatic case studies on Middleby Corporation (MIDD), Patrick Industries (PATK), MTY Food Group (MTY.TO), and DaVita Corporation (DVA), Bank of the Ozarks too was a microcap company before its ascension.
(Click on image to enlarge)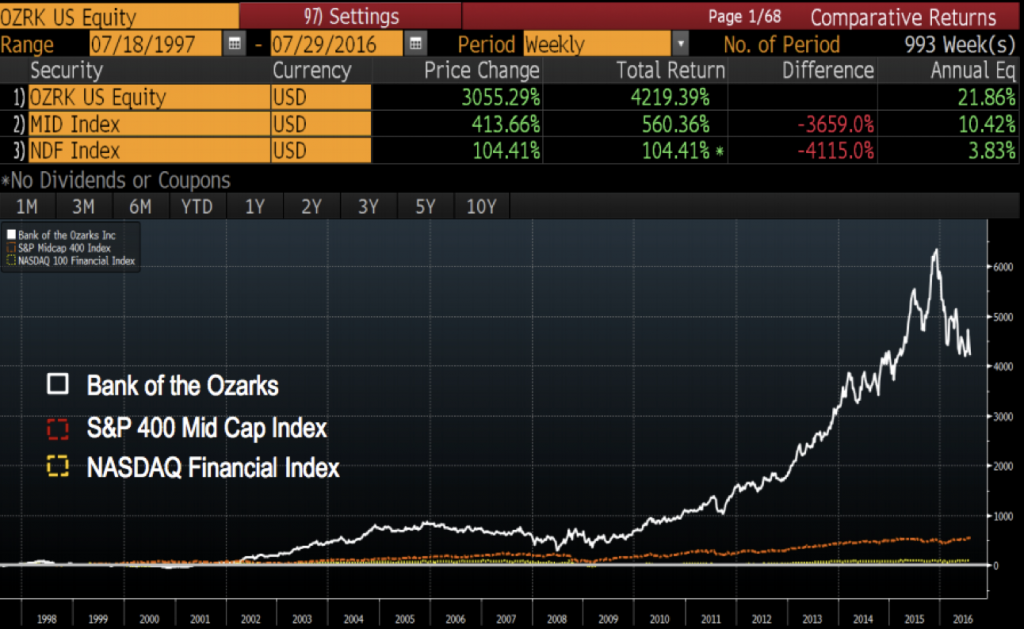 Background
A reoccurring theme amongst intelligent fanatics is that they lack direct experience in the industry they eventually dominate. This provides them with a fresh perspective necessary to see things differently. George Gleason fit the mold well. He acquired significant business experience from his parents, both owners of small businesses in the small town Dardanelle, Arkansas. They owned cattle, poultry, row crops, rental property, a retail store and a feed mill.
From the age of five Gleason began taking over simple responsibilities at the different businesses. As he grew older, those responsibilities grew. He was running books at age twelve and filing tax returns at age fourteen.
Gleason said, "My dad provided me an incredible opportunity as a kid to experience and work in and know a little bit about a lot of different businesses. So when I arrived in Ozark in 1979 and would sit in a loan committee, if it was a loan to a poultry operator or a row crop farmer or small businessman or person who owned rental property, I had some point of reference and some personal experience with all of those things even if at sometimes a very low level."
Having various business experiences from a young age doesn't automatically guarantee an entrepreneur can grow a microcap into a large successful company. George Gleason also possesses a superior intellect, work ethic and focus on being the best that was apparent early on. He was valedictorian of his high school class, graduated with a degree in economics from Hendrix College in two years achieved the highest score for his bar in Arkansas. Richard Atkinson, one of Gleason's law professors at UA Fayetteville, recalled in 2005 that Gleason was special when he was a student.