Sensex Hits New Highs; Wipro, Infosys Rally
Indian share markets traded marginally higher in the afternoon session. At the closing bell, the BSE Sensex stood higher by 54 points, while the NSE Nifty finished up by 30 points. Meanwhile, the S&P BSE Mid Cap finished up by 0.1% & the S&P BSE Small Cap finished flat. Gains were largely seen in realty stocks, metal stocks and software stocks.
Indices Close to Peak Valuations Measured Against Sales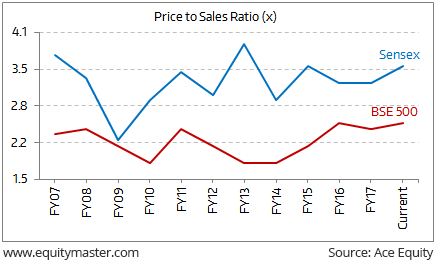 The average profit margins of Indian companies continue to languish near historical lows. But the worry is that the surge in valuations since 2016 has been devoid of profit growth.
Now since earnings are currently unusually low, looking at sales, which are relatively more stable, can give a good sense of how expensive markets are. It turns out the Sensex and the broader BSE 500 indices are close to their peak valuations when measured against sales.
Wipro share price gained 3.3% after it was reported that the board will consider a proposal for buyback of equity shares on 20 July.
With this, Wipro joins the growing roaster of Indian IT firms that have announced buyback offers to return surplus cash on their books to their shareholders.
Meanwhile, Fortis Healthcare share price and Religare Enterprises share price fell 8.1% and 4.5%, respectively after India Ratings and Research downgraded some non-convertible debentures (NCDs) and loans held by RHC Holding Pvt Ltd, which owns shares in Fortis and Religare, to default levels.
Jubilant Foodworks share price surged 9% in the afternoon session after the company reported rise of 25.51% in its net profit at Rs 238.4 million for the quarter under review as compared to Rs 190 million for the same quarter in the previous year. Total income of the company increased by 11.41% at Rs 6.81 billion for Q1FY18 as compared Rs 6.12 billion for the corresponding quarter previous year.