Kinder Morgan Canada – Is This Now A Sucker's Bet?
If the Trans Mountain pipeline expansion from Alberta down through B.C to Vancouver goes ahead as planned, then Kinder Morgan Canada (KML-TSX) will probably be a decent investment at current prices.I run through some math with "one-foot-planted-firmly-in-the-air" below and come up with a potential 50% return from here–in just over three years.
That is actually better than what the Market expects from capital intensive, yield paying, energy infrastructure plays.
On the other hand, if the Trans Mountain pipeline expansion does not proceed or is significantly delayed–which is now likely the case without a pro-business government in Canada's most western province–then Kinder Morgan Canada is not going to do well by investors.
In fact it could do very poorly.
With an unfriendly government soon to be in power, the range of outcomes is now where the best case scenario is average/mediocre and the worst case could be awful.
This is the kind of asymmetric bet that only a fool could love.
For Canada's Oil Industry – This Pipeline Is Vitally Important
Economically, the Trans Mountain expansion looks like a windfall for Canadians.
An economic stimulus package and enormous source of tax revenue all rolled into one.It would be good for the economy and good for the taxpayer.
Here is what the pipeline is going to generate for Canada, British Columbia and Alberta during the construction phase and over the first 20 years of operations:
$21.6 billion in federal taxes
$19.4 billion in provincial taxes paid to Alberta
$5.7 billion in in provincial taxes paid to British Columbia
15,000 equivalent jobs per year during construction
37,000 equivalent jobs per year during first 20 year of operation
800,000 person years of employment
$922 million of property taxes in British Columbia
$124 million of property taxes in Alberta
$3.7 billion of annual incremental revenue as a result of selling oil internationally instead of to the United States
For the oil industry the pipeline isn't just a good thing, it is absolutely crucial.
This is a desperately needed solution to get adequate pipeline capacity in place to meet rising production. Without it Alberta oil producers have major problems.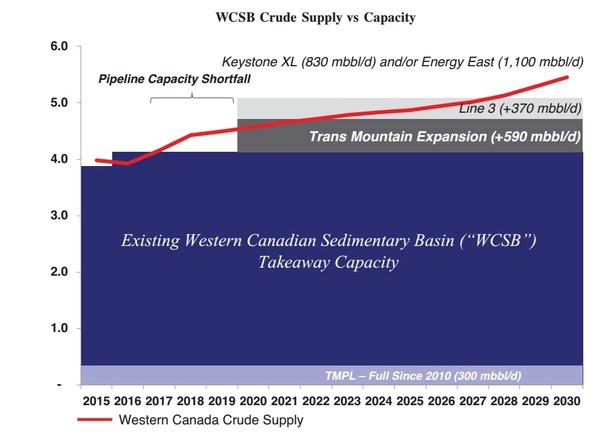 Source: Kinder Morgan
After years of angst, last November the Trans Mountain expansion finally received approval from Liberal Prime Minister Justin Trudeau. The current British Columbia (provincial) Liberal government has also pledged support.
Disclaimer: Under no circumstances should any material in this site be construed as an ...
more