GBP Bulls Tested Ahead Of BoE; RBA Wedges Deeper Into A Corner
Over the past couple of days, we've looked at the rather aggressive topside run that's begun to show in the British Pound. Coming into the month of August, the British Pound was surging as expectations began to build that the BoE may move away from their extremely dovish monetary policy. But when that didn't happen at the bank's Super Thursday on August 3rd, sellers came back into the currency and GBP spent much of the month moving lower. But after setting a low around the Jackson Hole Economic Symposium, GBP/USD began to trend higher and that theme really began to heat up last week. When yesterday's inflation for the month of August printed at 2.9%, the British Pound rallied up to fresh highs ahead of a pivotal BoE meeting sitting on the docket for tomorrow.
GBP/USD Daily: Rally to Fresh Highs as 2017 Bullish Up-Trend Continues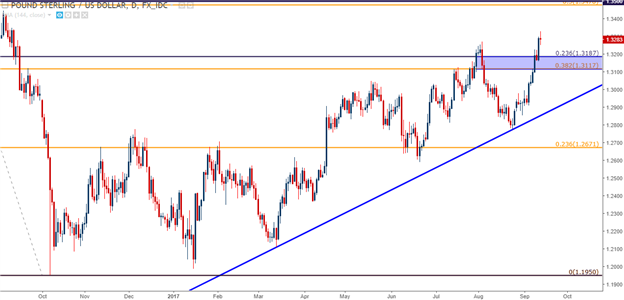 Chart prepared by James Stanley
But that trend is facing a test this morning: U.K. unemployment fell to 4.3% for the quarter ending in July, and this was the lowest jobless rate in the economy in 42 years. And while this, on its face, is a good thing – wage growth remained weak, printing below expectations at 2.1%; and this is a big deal, because lacking wage growth is the primary push-point mentioned by BoE Governor Mark Carney as to why the bank hasn't yet adjusted interest rates to account for rising. This added a bit of skepticism to the recent topside run in GBP, as this may be the ammunition that the BoE needs to justify retaining the uber-dovish stance in regards to monetary policy.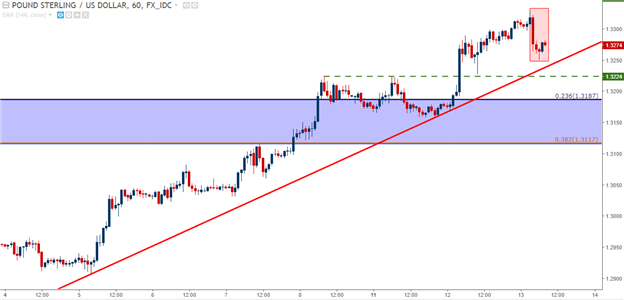 Chart prepared by James Stanley
While 2.1% wage growth is above the BoE's target of 2%, it's still well below the 2.9% clip that inflation has been running at. This continued squeeze of the British consumer has started to show in consumer spending, and this combined with the 'Brexit uncertainty' that Mr. Carney has mentioned multiple times as a factor hindering business investment makes for a difficult backdrop for the Bank of England to investigate higher rate policy.