Crypto Blasé: Still No Resurgent Interest In Bitcoin's Latest Sell-Off
In my last post on Bitcoin I worried about the sustainability of the $6000 bottom. I am now even more worried.
Google Search interest continues to wane on Bitcoin. Ever since December and the major top under $20,000, search interest in "Bitcoin" has trended downward with spikes in search activity also trending lower.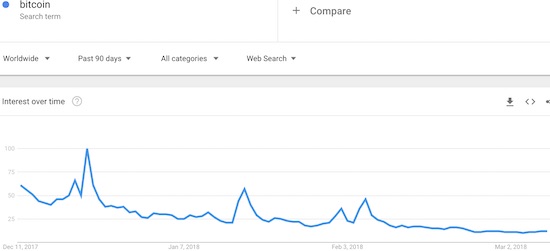 Source: Google Trends
Search interest in Bitcoin is significantly waning. The latest sell-off in the cryptocurrency has yet to generate a fresh surge in interest.
The chart of search interest in the last 5 years shows the tremendous magnitude of the recent spike in interest and the subsequent implosion in that interest.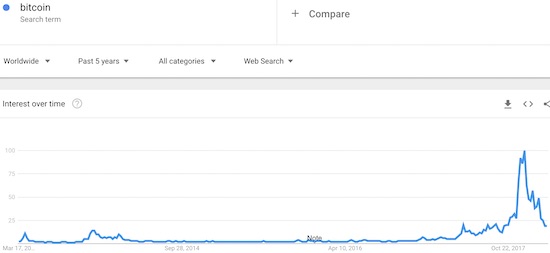 Source: Google Trends
Relative to the last 5 years, Bitcoin caught "mainstream" attention in just the last 10 months or so.
So my worry is that the recent drop in price of 25% off the last highs did not generate a new spike in search interest, even if not quite as high as the last spikes. A surge in search interest represents people searching for news to explain the big price move and presumably making buy/sell decisions based on the news. If they searched now they would find news about the trustee of bankrupt Mt. Gox dumping $400M worth of Bitcoin and Bitcoin cash (between December and February) to pay off former account holders and news about additional regulatory pressure from the Securities Exchange Commission (SEC) particularly on Initial Coin Offerings (ICOs).
When the price extreme is surging, searchers look for catalysts to justify the move – they tend to find reasons to take profits. When the price extreme is plunging, searchers also look for explanatory catalysts, but they tend toward buying the bargain. This group is likely heavily influenced by people new to the underlying asset.
I have so far seen these sentiment dynamics play out in gold, silver, and now cryptocurrencies. As far as I know, these dynamics are not the result of an absolute law and could change at any moment. Still, I remain fascinated by the relative consistency of these dynamics. The (current) absolute tops in Stellar and Bitcoin stand out as all-time classics. The recent bottoms in Bitcoin have produced smaller validations for using Google Trends to interpret extremes in price changes.
Disclosure: No positions.
Follow Dr. Duru's commentary on financial markets via more