The Three Phases Of A Bull Market
While western markets remained mired in stagflation throughout the 1970's Japan powered ahead in its own private phase II advance. Stocks steadily got marked-up over the next 11 years. The word was now out and Japan was recognized as a world juggernaut. Nixon's Watergate comment made in 1972 that he didn't want a "cheap" Sony recorder seemed embarrassedly dated. "Made in Japan" no longer meant inferior it represented quality. As a result, the market entered a credit fueled mega blow off lasting 4 years. This final phase III market spasm could do no wrong and embodied every element of a classic phase III. Buying Rockefeller Center to Pebble Beach was a resultant manifestation of the credit binge of the blow off. Japan Inc. occupied the covers of US business publications, and we pondered how to be as smart as the Japanese. The reality was it became a credit stoked belief system where human frailties exhibited themselves to the world. A 19 year bull market leads to humans becoming full of themselves and letting a crescendo of credit creation distort all reality.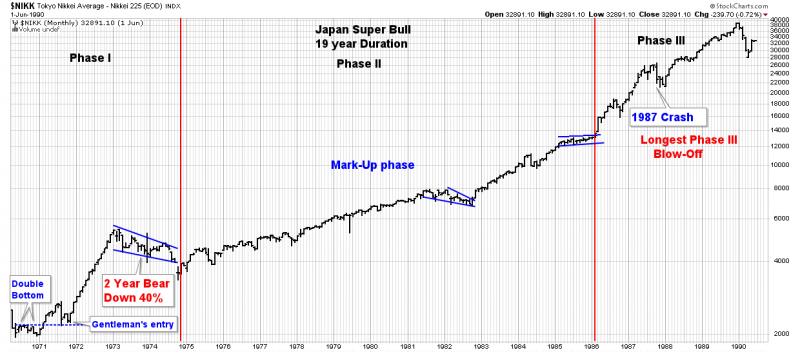 Oil Bull 1998-2008
Commodity bulls are somewhat different animals as they are more focused on a single product as opposed to a broad equity market. In an equity bull market we see rotation from one class of industries to another, lending it staying power. However in a single class commodity it seems to take around 10 years to bring on excess supply which ultimately kills the bull. We all know that commodity prices are often much more volatile than equity markets and we witness this in the oil bull of 1998-2008, however many of the principles remain the same.
Phase I rallied the oil market for 22 months without ever offering a gentleman's entry. This no look back rally powered the price up 350%, a classic case of "got to be in it to win it". Once exhausted, however the market demanded a one year 55% crushing bear market to transition itself into phase II. This ran coincident with the equity bear market, but ended a year ahead of it.
Phase II proved to be the classic mark-up event which was interspersed with normal secondary reactions along the way. We see that volume followed trend as it gradually grew as price rose. We see in the chart that the series of higher lows eventually led to a breakout above the $40 resistance level. This level essentially goes all the way back to 1980 so the channel between $10 and $40 contained the oil price from 1974 to 2004, a period of 30 years. Market price spent 30 years coiling energy which would be released in an upward impulse once it could break through its $40 resistance level. Amazingly the move all the way to $147 over the next 3 years was a forecastable event as it complied precisely with its measured move distance of channel range built out over 30 years.
The division between phase II and III is clearly defined and separated by a short 6 month mini-bear market of 38%. So quick it's tempting to simply call this an extended secondary reaction. We can see how volume exploded as the cult of Peak oil took hold. The top of $147 was matched with a RSI indication not seen since 1980 which was the start of that 20 year secular bear market. True to form this indicator announced the start of the next secular bear market which is still in effect today 8 years later.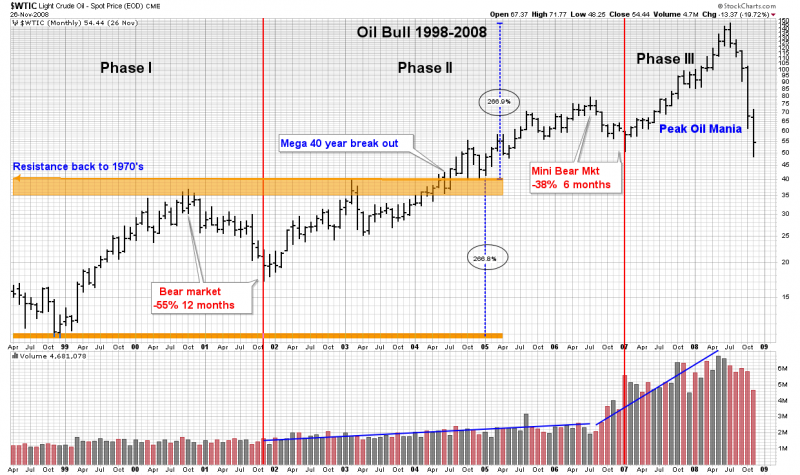 In conclusion, these models are examples of how secular bull markets transition from Phase I to Phase III. Each phase has its own psychological characteristics. By understanding these principles we can effectively navigate through the vagaries of a bull market as it unfolds. These are time tested methods discovered by the greatest of market analysts with no parallel to be seen on the likes of CNBC. Successful investing requires one to be a student of the market and its message combined with a disciplined approach.
Now we shall turn our attention to the budding new precious metals bull. The reader having this background in market history is encouraged to have his own personal plan in place for riding what promises to be a truly life changing investment opportunity.
Trade prudently and prosper.