Crude Set To Fall Further As View Of OPEC Production Hike Firms
FUNDAMENTAL FORECAST FOR USOIL: SHORT-TERM NEGATIVE
WTI CRUDE OIL FUNDAMENTAL TALKING POINTS:
The ONE Thing: The rebound in crude appears hollow as OPEC is expected to add to the global oil supply. The increase in supplies, which could come online quickly are already pressuring prices and adding to the coming supply, US oil inventories jumped by the most in a decade on higher US output.
Per BHI, U.S. Oil Rig Count rises by 1 to 862, US total count at 1,062
OPEC oil output remains in hot contention as Venezuela pleads for OPEC to fight sanctions as their rig count falls on unpaid drillers pulling projects
The technical analysis picture of crude oil has a focus on the 61.8% at $65.60 that also aligns with the Ichimoku cloud. A breakdown from here, which the fundamentals are beginning to favor could see a broad breakdown toward $60/58 per bbl.
Crude oil may have a difficult time resuming the trend that was so prevalent in the first half of the year as OPEC plans to fight sanctions and increase productions while US oil inventories showed the sharpest increase in US oil stockpiles since October 2008.
The combination may make the recent bounce in price in WTI near $66 short-lived and hollow as bearish pressure is seen through the oil curve, which is flattening.
December '18 – December '19 Spread Breaks Down on Increasing Global Production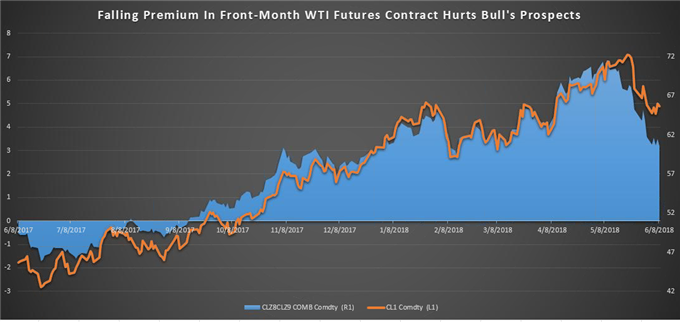 Data source: Bloomberg
An oil curve is often a guiding light for traders who like to combine technical analysis with moves in the correlated spot markets. The curve answers the simple questions: is there a premium or discount of this homogeneous product when comparing a near-dated futures contract to a later dated contract?
A premium of the near-month contract aligns with buying pressure or the desire to buy now because supplies are likely low relative to perceived demand. As the near-month contract converges or drops below the later-dated contract, we typically see a drop in price like you see above.